School holiday hunger cash a 'great first step'
By Judith Burns
Education reporter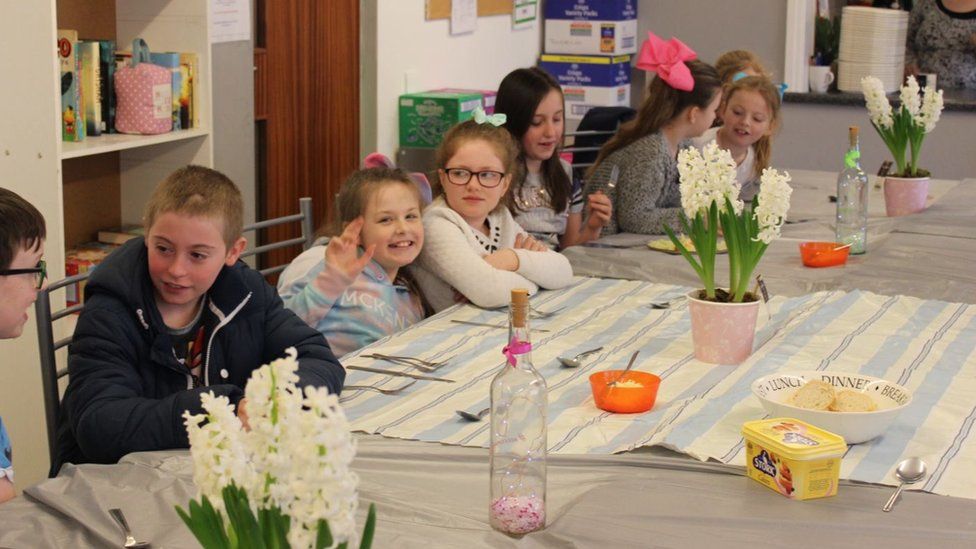 A new £2m government fund for food and fun for poorer children over the summer has been hailed as a great first step to solving school holiday hunger.
But charities warn that, with an estimated three million UK children at risk of going hungry over the summer break, there is far more to be done.
Children and Families Minister Nadhim Zahawi said the cash would fund a range of summer support for families in need.
Campaigner Frank Field MP said it was important to extend the programme.
The government estimates that the £2m will provide healthy meals and activities throughout the summer to about 30,000 under-18s in some of England's most disadvantaged areas, ranging from parts of Birmingham and London to Leicester and South Shields in South Tyneside.
Mr Zahawi said: "For most pupils the end of the school summer terms signals the start of the holidays, days out and a chance to make memories with friends and family.
"Other families, who might rely on the support provided by schools, are not so lucky.
"These projects will provide a range of support for families during the summer break."
The MP, who chairs Feeding Britain, one of seven charities to share the cash, added: "Now begins an even more significant task of finding out, and then developing into a universal service, the most effective ways of ensuring every child can eat well and have fun during the holidays".
He hopes the results of this summer's pilot projects will help government define the most effective means of boosting the life chances of children from poorer families, with a view to scaling up and extending the programme.
Feeding Britain said poorer families too often struggled to cover additional food costs while free school meals were not available for six weeks.
"One consequence of that struggle is a widening of inequalities in the classroom, with some disadvantaged children returning to school hungry, sluggish and unprepared to learn, falling several weeks further behind their more fortunate peers," it added.
Gary Lemon, director of policy and research at the food bank charity Trussell Trust, said the pilot was "a great first step in supporting the work being done by communities to help families during the summer and will have a real, measurable impact on children across the country".
"At the same time, we must not lose sight of the underlying issues that leave families needing food banks at this time of year.
"To truly tackle hunger during the holidays we have to ensure every family has enough money coming in to cover essential costs."
And Ellen Broome at Coram Family and Childcare, said its research had found only one in four local areas had enough childcare for working families.
"For too many families, the long summer holiday is a time of stress and expense as they try to patch together a solution despite the gaps," she added.
The projects benefitting are Children North East, Family Action, Feeding Britain, Birmingham Holiday Kitchen, On Side Youth Zones, Street Games and Transforming Lives for Good.