A-level results 2018: What was new about this year's exams?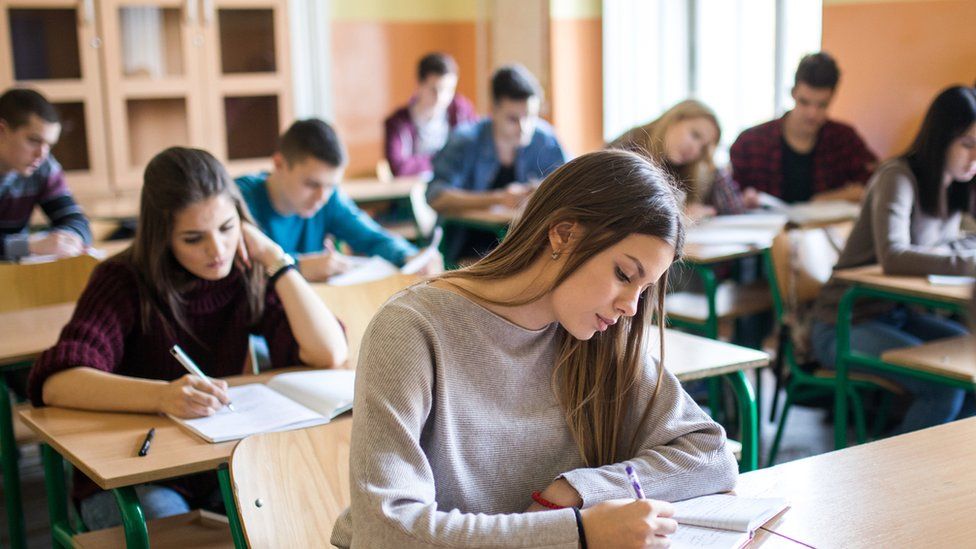 Thousands of teenagers across England, Wales and Northern Ireland are receiving their A and AS-level results. There have been some changes to A-level qualifications recently - the BBC News website sets them out.
What changes have there been to A-levels in England?
New AS and A-level syllabuses have been phased in across schools in England since September 2015.
Under the new system, students sit all A-level exams at the end of two years of study, instead of taking modular exams throughout the course, as they had done in previous years.
AS-level results no longer count towards A-level grades and levels of coursework have been reduced, with most courses assessed entirely through exams.
Resits will still be available, but January exams have been scrapped, so students will have to wait until May/June of the following year for a chance to improve their grades.
What has happened to AS-levels?
In a nutshell, they're on the way out - in England at least.
The AS-level has been decoupled from the A-level, which means it operates as a stand-alone qualification and the results do not count towards A-level grades - although in Wales and Northern Ireland, they will still count towards an overall A-level mark.
Since this decoupling, the number of entries for AS subjects has fallen dramatically.
Provisional figures from the Department for Education show that the number of entries for AS subjects fell by almost 60% from 659,880 in 2017 to 269,090 in 2018.
This continues the trend which was seen in 2016 and 2017.
Association of School and College Leaders general secretary Geoff Barton said the changes had "sounded the death knell for AS-levels".
"The great benefit of the old system was that it gave students a broader range of knowledge and allowed them to keep their options open for longer," he said.
"The decision to decouple these qualifications was an entirely unnecessary reform, which is narrowing the curriculum and reducing student choice."
So the changes are being phased in on a subject-by-subject basis?
Yes, that's right. The changes are being phased in over a period of four years.
art and design
biology
business
chemistry
computer science
economics
English language
English language and literature
English literature
history
physics
psychology
sociology
This summer, 2018, new A-level exams were taken in:
ancient languages (classical Greek, Latin)
dance
drama and theatre
geography
modern foreign languages (French, German, Spanish)
music
physical education
religious studies
Next summer, 2019, candidates will sit the new A-level qualifications in the following subjects:
accounting
ancient history
classical civilisation
design and technology
electronics
environmental science
film studies
further mathematics
geology
government and politics
history of art (A-level only)
law
mathematics
media studies
modern foreign languages (Chinese, Italian, Russian)
music technology
philosophy
statistics
And, in summer 2020, new exams will be taken in:
ancient languages
modern foreign languages (Arabic, Bengali, Gujarati, Greek, Japanese, modern Hebrew, Panjabi, Persian, Polish, Portuguese, Turkish, Urdu)
What's happening elsewhere in the UK?
There have been no major changes in the other nations.
In Wales and Northern Ireland, AS-levels have remained an integral part of studying for A-levels.
In Wales A-levels have also been updated.
AS-levels contribute 40% of the total marks of the full A-level and can be taken at the end of the AS course or alongside A2.
In Scotland, students do not sit A-levels and AS-levels. Instead, they take Highers and Advanced Highers.
Reporting by BBC News education reporter Katherine Sellgren