A mother's place 'is in the home'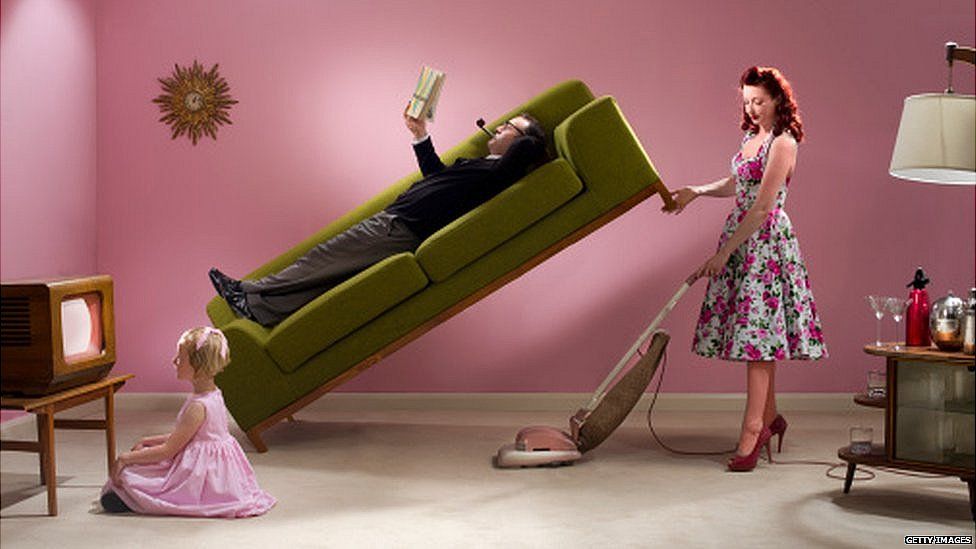 A woman's place may no longer be in the home - but if she has pre-school children, it should be, according to an annual survey of social attitudes.
Only 7% of British Social Attitudes survey interviewees felt mothers of under-5s should have full-time jobs.
Part-time work was judged acceptable by 38% - but one in three felt those with under-5s should be stay-at-home mums.
Meanwhile, 72% disagreed that "a man's job is to earn money - a woman's job is to look after home and family".
Older people, unqualified people and those on lower incomes were more likely to support a traditional view of women as homemakers and men as breadwinners.
A representative random sample of 3,988 adults were interviewed between July and October 2017.
Lead author, Eleanor Attar Taylor, from the National Centre for Social Research, said: "Attitudes towards gender issues depend on the topic under question.
"Looking at issues around roles in the home and labour market, we find that there is a marked reduction of support for traditional gender roles of the man working and the woman looking after the home, mirrored by increasing agreement that both men and women should contribute to household income.
"However, when it comes to maternal employment, the majority of people still think either mothers should stay at home or work part-time, particularly when there is a child under school age.
"In addition, regarding parental leave, there is little difference between the sexes, with a majority feeling the mother should take all or most of the leave."
Carolyn in Berkshire is a working mother of a two-year-old. She says it would have been an easier decision to make if companies were more flexible.
"I love my job and gain a lot of satisfaction from working in a career I spent time building up, and my son gains a lot of skills from being at nursery.
"But I have found it impossible to find a part-time position or a company to accept flexible working so that I can stay at home with my son some of the time.
"I have been left with the decision to work full time or give up working in a career I love."
Mum Clare Nicholas in Swansea believes it is unusual to be a stay-at-home mum nowadays because families simply cannot afford to raise children on one income.
"I had to return to work when my child was six months old as I am the main earner in my household. I am a graduate and my job is far better paid than my husband's.
"Families do not have the luxury of having one family member at home in the current climate.
"I have one friend who is a housewife, and it is just not the norm. I am actually shocked that people still think this way."
Ray Davie has been a stay-at-home mum of two in Lincolnshire for 13 years. She says mums should not be made to feel guilty whatever they decide.
"I don't see that it actually matters whether a mum is at home or working as long as the children are properly looked after and all parties are happy.
"What I see as unacceptable is woman being made to feel guilty for not making a contribution or wasting their education by being at home.
"I didn't particularly enjoy my job but I have a degree in earth sciences and I am a qualified chartered accountant, both of which help enormously in running a busy household."
The survey findings come at a time when the highest proportion of women are in paid work. Some 71% of women aged between 16 and 64 are working, according to the Office for National Statistics (2018).
Related Internet Links
The BBC is not responsible for the content of external sites.