Do you want more textbooks than tanks?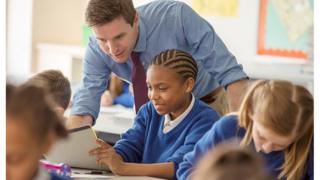 How much money do England's schools need in the coming years?
On Wednesday, the Education Secretary Damian Hinds was asked to name a figure, but refused to be drawn.
"Do you not think the public would want more textbooks to tanks?" asked Robert Halfon MP, the chair of the Education Select Committee.
Trade unions have said they estimate an additional £2.7bn a year is needed to take funding per pupil back to the level of 2015-16.
The NHS has been given a financial settlement, and there has been noisy lobbying within government for more defence spending.
Perhaps Mr Hinds had in mind the reproach from Treasury Minister Liz Truss to colleagues demanding extra money.
The Conservative chair of the committee, Robert Halfon, told the BBC: "After we got a wonderful settlement for the NHS, I believe we also need a ten-year plan for education and a five-year funding settlement too."
Three teaching unions, the GMB, Unison and Unite have claimed the government is breaking a promise to maintain funding at the same level per pupil, after rising costs are taken into account.
They argue schools have been allocated an average of £4,630 per pupil, which is roughly £59 less in real terms than 2015-16.
The government says these calculations omit a large part of overall education spending, the central schools services block, which funds support services for schools.
"The claim that real terms per pupil funding has decreased in the last year is completely false," a spokesperson for the Department for Education said.
"These figures fail to take into account that in 2018-19, we have provided an additional £450m of funding - making this comparison factually incorrect."
Independent economists might think the government has a point, as it has previously been included in calculations.
Luke Sibieta, from the Institute for Fiscal Studies, said: "Changes were made to the school funding system for 2018-19 and funding for central services was separated out. Previously it was part of overall school funding."
Mary Bousted, the joint general secretary of the National Education Union, said: "It is no wonder that schools are increasingly struggling to provide pupils with basic essentials and having to ask parents to fill the gap."
Teachers' pay
All of this pressure comes ahead of any government announcement about the pay award for teachers.
The independent body that looks at their pay in England has been instructed to look at a pay rise above 1%.
Schools are employers in their own right, so unless there is additional government funding, they will have to find the money for any pay rises out of their own budgets.
School funding zoomed up the political agenda last year, with many head teachers encouraging parents to lobby their MPs for more money or a bigger share for their area.
Teaching unions joined forces to launch a website called School Cuts to show the funding outlook for each school.
To put it simply, they took government figures and, in political terms, weaponised them.
We don't know for certain what influence that had on votes in the general election, but the age group where the increase in turnout was greatest was 30 to 40 year olds, according to the British Election Study.
The age group of many parents.
After the election, with seats lost and majorities reduced for some Conservative MPs, the government promised an additional £1.3bn of education funding for England's schools to maintain per pupil spending for the rest of the parliament.
It was, one senior Tory told me, "too little, too late" to salvage the votes of concerned parents.
The joint unions withdrew their figures the day after they published them admitting inaccuracies in their data.
"The calculation of the amount of funding per pupil should have included the Central School Services Block, which was created to replace the Education Services Grant.
"The ESG amount is included in the pre-2017 figures, so we should have included the CSSB figures in our most recent calculations in order to compare like for like."