Hidden 'shame' of elderly scam victims
By Sean Coughlan
BBC News education and family correspondent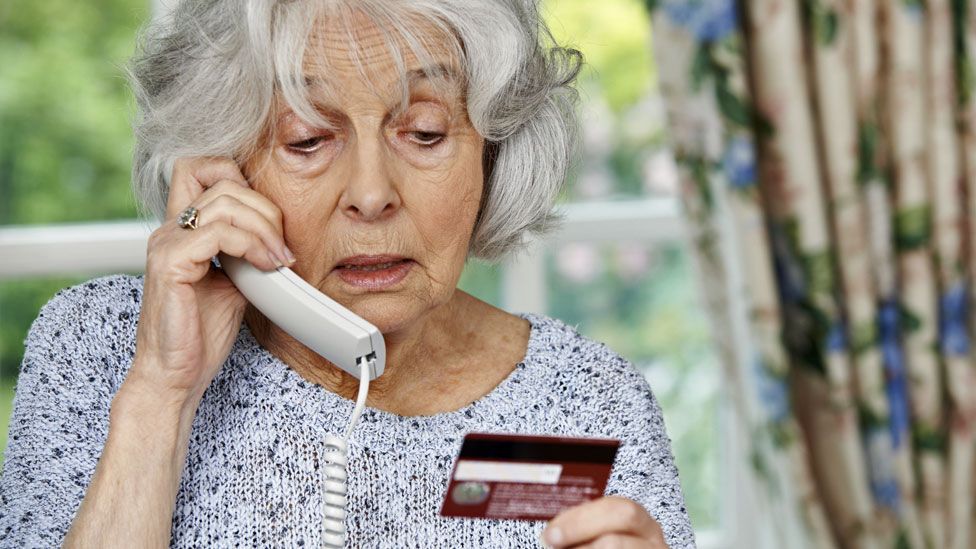 Almost a third of elderly victims of fraud have been too embarrassed to tell their own families or friends what happened to them, say researchers.
A report from the Centre for Counter Fraud Studies warns of the "stigma" felt by elderly people about being cheated, including online scams.
It warns that the over-65s are three times more likely to lose money to fraudsters than to be burgled.
Fraud victim, Dolores Walker, aged 93, said it made her feel "ashamed".
She said she spoke to no-one "about my experience with scammers", in which she had been tricked into giving card details.
"In the end, I just stopped answering the phone altogether in the hope that they would leave me alone."
'Anger, stress and embarrassment'
The report, from the Centre for Counter Fraud Studies at the University of Portsmouth and elderly helpline Reassura, says the increase in elderly people using the internet has brought more risks of fraud.
In the 65 to 74-year-old age range, the study says people are 54 times more likely to be a victim of fraud or computer scams than they are to be physically robbed.
Prof Mark Button, director of the fraud studies centre, estimated that about 10% of the 3.2 million annual frauds are perpetrated against the elderly.
The most common are identity theft, inflated or fake fees for services and online shopping scams.
But the report warns of bogus charities, investment fraud, fake competitions, dating scams, health frauds and false claims for debts.
Many elderly people have faced multiple fraud attempts - and scams can lead to them being swindled out of tens of thousands of pounds.
The research says that elderly people can be left with feelings of "anger, stress, upset, ridicule and embarrassment" from their experiences of fraud, leaving them isolated and afraid.
It warns that fear of fraud is contributing to the "loneliness epidemic" facing the elderly.
Ms Parker lost money to a phone fraud, with a scammer trying to overcharge for a service and then taking money from her when she gave her card details.
Her reaction had been to keep it secret.
"I realise now that I was isolating myself from my own family. While it wasn't easy, I wish I'd have spoken to someone sooner about the troubles I was having."
Ms Parker's experience prompted her son-in-law, Mark White, to set up a helpline for the elderly, Reassura, to give a second opinion and advice to the elderly in situations where they feared they might be being defrauded.
He said that older people needed to see speaking out as a way of preventing fraud and "not a sign of weakness".
"That victims of fraud are the most reluctant to speak about the issue is telling of the taboo around fraud - and the long-term feelings of shame and embarrassment they unfairly face," says Mr White.
Prof Button says there could be many more unrecognised frauds.
"A number wouldn't want to accept that they're a victim, some wouldn't even realise it's been a fraud," he says.
"People don't like to feel they've been tricked."
He says a "generational politeness" could prevent older people from stopping engaging with fraudsters, who might be deliberately targeting the elderly.