Military children: 'I've lived in 12 different houses'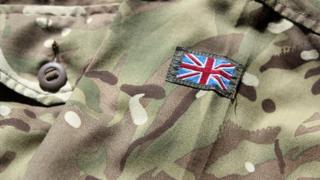 "This is my 10th school, I've lived in 12 different houses," a girl, 14, says.
She is one of 40 eight- to 15-year-olds to have shared their experiences of growing up in military families with England's children's commissioner.
Anne Longfield is calling for a child-focused approach to supporting them.
Her report says the "all-encompassing character of a military lifestyle means service children can experience 'growing-up' quite differently from their peers".
"The mobile lifestyle of many military families can be tough, with children telling us that multiple school moves leave them feeling unsettled and anxious about achieving good grades," it says.
'Not having mum there'
One 12-year-old girl told the researchers: "I've moved nearly every two years. I've never finished a school.
"I've just been moving around a lot with my family. I moved from Germany to Northern Ireland, Northern Ireland to England, so I've moved houses so many times."
Some of the children interviewed spoke about the anxiety of being separated from a parent.
"My dad went away to the Falklands and he went away for a year. And I missed him like every second because I knew how long he was going away for," said a nine-year-old boy.
"And the thing that I didn't like about that is because he missed Father's Day, Mother's Day, my birthday, my mum's birthday."
A nine-year-old girl said: "Not having Mum there, not talking to her lots, because mums are usually the person that you talk to when you've gone back from school and you've had a really rubbish day."
"On Wednesday it's normally Dad who takes me swimming," said a seven-year-old girl
"When he's away, Laura's dad takes me but I always wish it was my dad."
A 14-year-old boy said: "My dad's been away for two years once and he went to Afghanistan as well and it was only me and my mum before my brother came and my brother was born while my dad was still away.
"So, he didn't have a dad for six months until he came back."
They also spoke of the worry of wondering if their parent was safe.
"Yeah, there's always the thought that you're never going to see them again. That's always the thought that's in my head all the time," said one 15-year-old boy.
"When you're older, you know that in reality, in war, obviously I've seen stuff, people getting shot and stuff like that and then you go, 'My dad could be watching his friends get shot to pieces and all that.'
A 14-year old girl said: "And then you just think… you can't stop thinking about him and if he's OK, if he's dead or not and then seeing him in a funeral coming out of a plane, it's just, that's what you always think about, that's what I always think about."
What does the children's commissioner say?
Ms Longfield says the children her office interviewed were very proud of their background but more must be done to support them.
She says: "The vast majority of service children we spoke to during this project were happy, resilient and incredibly proud to have a parent serving in the armed forces.
"Belonging to a military family was central to their identity and sense of self. And it is clear that we should celebrate the contribution and the sacrifices made by military families.
"However, more can be done to improve the services that help these children as they cope with the pressures brought about by frequent moves and parental deployment.
"I want to see a child-focused approach to supporting military families that takes into account the complex challenges that are inevitably part of growing up in an armed forces family."
What does the report recommend?
The report makes a number of recommendations to help children growing up in service families:
The Ministry of Defence (MoD) needs to better promote its policies aimed at minimising disruption to family life
More must be done to ensure additional support, for example for special needs or mental health issues, is not disrupted when service children move between local authorities or devolved nations
Schools should be supported to manage the "timely transfer" of children's information
Children must be placed in "the most appropriate school with siblings"
Service children's interests should be taken into account when making deployment decisions and, when both parents are serving personnel, every effort must be made not to deploy both at the same time
The MoD play and youth work strategy should be developed to ensure effective emotional support is available for service children, especially teenagers
The MoD and Department for Education should improve their data collection on service pupils, to build a clearer picture of the numbers of these children in schools and their patterns of mobility and parental development
What does the government say?
The MoD said it welcomed the report and looked forward to "working together to address the areas where we can do more to provide the support that our service children, and their parents, deserve".
A spokesman said: "We understand the unique challenges that children of armed forces personnel face.
"We already have a range of measures in place and are further improving these to ensure that service children are treated fairly and achieve their full potential.
"These include the service pupil premium, special provisions in school admission codes to make sure children aren't disadvantaged, and an information sharing system, which allows schools to record and securely share the educational needs of individual children, allowing smoother transitions between schools."