The school with 300 holes in the roof
By Sean Coughlan
BBC News education and family correspondent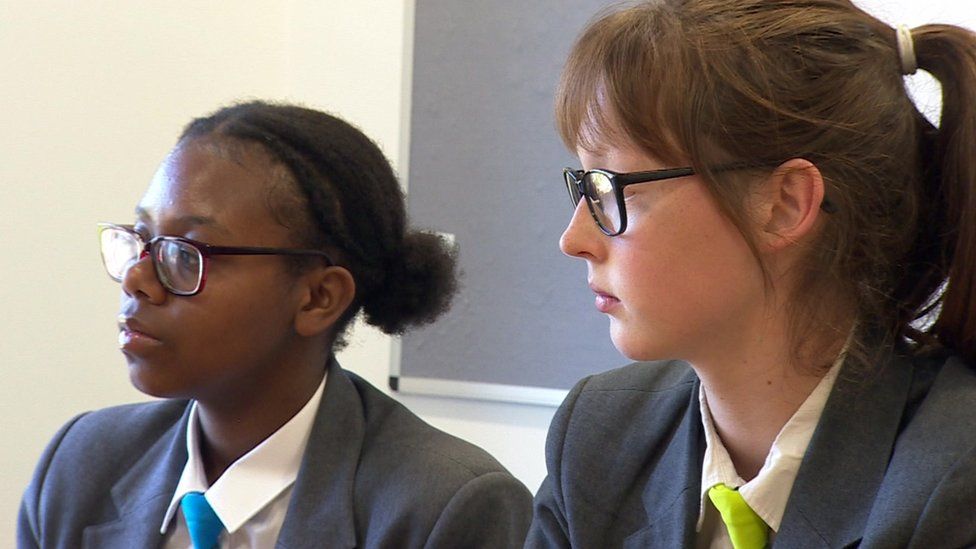 A West Midlands head teacher is "extremely angry" at budget shortages which have meant cutting 14 staff - and left his school with 300 holes in the roof.
James Ludlow, head of the King's Church of England school, has also had to cancel music lessons and art events.
Heads' leader Geoff Barton has warned the education secretary any further budget pressures on schools would be "catastrophic" and risk "insolvencies".
But the Department for Education says school funding has been protected.
'I thought they were joking'
"It's really heartbreaking," said Mr Ludlow, head of the Wolverhampton school, standing beside a bucket for collecting rain in a corridor.
"When it rains, and we've had some heavy downpours, water comes through into the corridors and brings bits of the ceiling down," he says.
This is the most improved school in the area and Mr Ludlow is exasperated that his efforts to turn around a school serving many disadvantaged pupils seem to be hampered whichever way he turns.
There is a £350,000 shortfall in the budget for next year, with another £5m repair bill to fix the building.
Subsidies for music lessons for poorer pupils have been stopped. Animals, which were particularly liked by pupils with special needs, had to be taken away.
The school play, held at a venue in town and which for years has given pupils a chance to showcase their skills - has been cancelled.
"I didn't believe it. I thought they were joking. It was something I really looked forward to," said Anya, 14.
"I knew the school wasn't best for funding and we didn't have a lot of money. But I didn't realise it was that bad. I was really shocked.
"Put yourself in our shoes. It's not fair on us."
Not blowing your own trumpet
Marcel had been learning trumpet - but the lessons are going to cost more, making them unaffordable for his family because "money at home is really tight".
"I really love the trumpet. I enjoyed playing. It's really interesting. It's going to make me feel sad if I can't carry on," said the 12-year-old.
"I went home and said to my mum, 'I know I won't be able to carry on,'" said Kelsey, 11, who found her guitar lessons were going to cost more.
"It was a real shame that I had to stop. Music is part of me. I can show people who I am. I can express myself.
"The teachers are also very upset because they know opportunities are being taken from the children."
Olivia, 15, said cutting arts and drama was not just about losing a chance for students to express themselves. "It's important," she said. "It could be their career."
But it's not a simple problem with easy scapegoats - the school is an embodiment of how policies of successive governments can have unintended consequences.
It was re-built under the last Labour government - with shiny design features and a landscaped setting.
And from the outside it looks like a showcase. But when it rains, the water comes through those 300 holes - and when the Sun shines, almost none of the windows can be opened.
You might think it was a job for the builders to put right, except that's Carillion, which collapsed earlier this year.
When schools struggle, the typical policy response has been to turn them into academies.
But the King's school has been caught in the twilight zone of so-called "orphan" or "zombie" academies, where schools are given academy status but there is no sponsor or academy trust to lead them.
Next, the school was hit by the current big story in England's schools - the lack of cash.
The King's school, with hugely expensive buildings and a crippling repair, bill has been hit by the squeeze on school budgets.
"It makes me extremely angry. I didn't come into teaching to cut back and cut back. I came here to improve children's lives," said Mr Ludlow.
"Our school offers something unique to students. They love coming here. And to have to say to them we're going to have to increase the charges, we're going to have to take things away, it's really heartbreaking, as a teacher and a human being.
"I think some people think schools are just whingeing about it and just making it up and they could save money.
"But I can assure everybody that every penny is accounted for and that we use every penny extremely wisely and the pot of money is running very low."
Mr Ludlow, who had to move out of his own office when the water was running down the walls, said the school had been trying to cut spending but costs were rising more rapidly than his budget.
This is part of a national picture, with schools across England warning about funding problems or asking parents for money to fill the gap.
Geoff Barton, leader of the ASCL head teachers' union, has written a letter to the Education Secretary Damian Hinds, warning that school standards are being threatened.
The next pay round for teachers is imminent - and Mr Barton has told the education secretary that any more cost pressures, such as unfunded pay awards, would be "unaffordable and catastrophic, undoubtedly pushing some institutions into insolvency".
"Funding is definitely getting worse in schools," says the heads' leader.
"If you're a head teacher, the only way that you're going to make significant savings is to cut staff - and that's what happening at the moment.
"Unless something is done about funding, it is inevitable that standards of education will go down.
"If you've got fewer teachers, fewer teaching assistants, larger class sizes, if you're cutting some of the classes that would have motivated students, of course standards are going to go down."
The Department for Education says that "record levels of funding are going into schools, with core school funding rising to £43.5bn by 2020".
The education department also argues that levels of spending need to be judged over the longer term - and that per pupil funding has risen by 50% over the past two decades.