'There were a lot of strangers around - I didn't feel safe'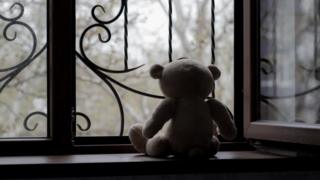 "I lived in a B&B with my mum for over two months, I was the same age I am now, 12," says Ellen.
"It was always cold. I don't think there was heating. There were a lot of strangers around. I didn't feel safe.
"You didn't know who was living there or what they might be capable of."
Ellen was interviewed about her experiences of homelessness as part of a child-led campaign, calling for more to be done to stop children in England being placed in unsuitable accommodation.
The Change It! campaign, led by children and young people and supported by the Children's Rights Alliance for England (CRAE), says its research shows children are being housed in "cramped, dirty and unsafe conditions, miles away from school, friends and family".
'It was like being in prison'
Ellen told the researchers she and her mother had been cramped into one small room, with use of a communal kitchen.
"It was messy, plates everywhere, and tissue on the floor. The oven didn't work. There was a washing machine, but it was broken."
Michael, 14, who was in a B&B for five months, said: "You can't go downstairs and watch TV, because there'll be someone shouting. You're locked up in one room with your family.
"There's nothing to do. It's like being in prison.
"There are two showers in the building. We're meant to use the one upstairs - but it doesn't work properly, it's hot enough to burn you.
"So, we wake up at 05:00 so we can use the downstairs one and don't clash with the other people living here.
"Sometimes in the morning, you'll see stuff in the toilet and the sink. It's disgusting."
Fowzia was housed in a B&B for six months when she was 16. She said there had been people there she had not felt safe around.
"It wasn't safe. Once, someone got into our room. The door was completely broken.
"There were some families, but some of the people were not in families. It was weird. You would see lots of kids going in, and then just a random group of men coming out of the rooms."
Cameron said living in temporary accommodation for eight months had been "too much".
"We lived in the hostel for eight months when I was 10. I'm 11 now. Me and my dad couldn't afford the rent on our old place, so we had to move.
"The hostel was damp. It was always cold. There was a wasp nest right by the window of our room so we could never open it to let fresh air in."
Carl, 16, told researchers he was in a B&B with his father for seven months.
"When we first arrived, I found a dead bed bug on the bed. Then I saw blood on the sheet. I pulled the sheet off the bed, and on the mattress saw loads of blood stains too.
"After a few days, me and my dad started itching and we realised that we'd been getting bitten.
"It made me stressed having such a small space, no privacy of my own. Even going to the toilet, my dad can hear me. There's nothing you can do. You can't do your own thing. You've got no space."
What does the Change It! report say?
The report says extended periods of time in this sort of accommodation increases the likelihood that children will:
be bullied at school
experience mental health problems
develop physical illness
fall behind in their education.
"B&Bs and temporary accommodation are often unsafe, dirty, overcrowded and breach health and safety regulations," it says.
"Very young children have nowhere to play, crawl and learn to walk, and parents find it difficult to set up regular sleep routines or potty train. Older children have no privacy and have nowhere to study or socialise with friends."
The report says many youngsters are being kept in this sort of accommodation for too long.
It is unlawful for councils to place children (or pregnant women) in a B&B for more than six weeks.
"Children of all ages are being left in B&Bs and TA [temporary accommodation] for months on end, often with no support and no idea how long they will be there."
Many families are put in housing a long way from their local area, it adds.
How many children in England could be affected?
The campaign comes as official statistics show the numbers of people in temporary accommodation are increasing.
Data published in March showed there were nearly 79,000 households in temporary accommodation at the end of December last year, including over 120,000 children.
In total, 2,030 families with dependent children were placed in B&B-style accommodation at the end of December.
What is Change It! trying to achieve?
The young people involved in the Change It! campaign want ministers to listen to the voices of children and young people.
The group is calling on the government to take urgent action to ensure local authorities stop housing families in B&Bs for longer periods by ensuring there is enough suitable housing for children.
Louise King, director of the CRAE, which is supporting the campaign, said: "It's shocking that in 2018 children are telling us about living in infested accommodation and being forced to share filthy bathrooms with adults they do not know.
"Despite it being illegal to house children in B&Bs for longer than six weeks, the children we have spoken to have been forced to live there for months on end.
"The government must take urgent action to put a stop to this unacceptable situation."
How has the government responded?
A spokesman for the Ministry of Housing, Communities and Local Government said: "Everyone deserves a safe and decent place to live. And councils are required to provide people with temporary accommodation that is suitable for their needs.
"We are spending more than £1.2bn to ensure all those who are homeless, including children, get the support they need.
"To ensure families can access permanent accommodation, we are also investing £2bn in social-rent housing and allowing councils to borrow more to build homes."