Universities warned over courses for 'bums on seats'
By Sean Coughlan
BBC News education and family correspondent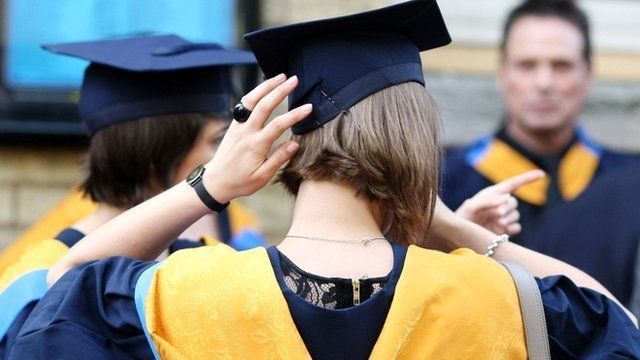 Universities have been warned against running low quality, "threadbare" courses just to get "bums on seats".
Universities Minister Sam Gyimah said there were a "clutch of underperforming degrees" where students would have poor job prospects when they graduated.
The minister was speaking at the launch of a survey indicating that fewer than two in five students felt they were getting good value for money.
Universities UK said getting a degree remained an "excellent investment".
Mr Gyimah urged universities to work harder at ensuring the quality of all their courses.
He called for them to look more carefully at the future job outcomes of their students.
And he warned of complaints from students that some courses had been expanded so much there were not enough desks or spaces in lecture halls.
Mr Gyimah said that for any future courses, universities should be "thinking very carefully, 'Is this about, 'I want to expand'?' or 'Is this really about offering a high quality degree worthy of our university sector and higher learning that students will benefit from?'"
He said universities were autonomous but needed to exercise more "responsibility" in terms of the quality of courses and to guard against "grade inflation" in how many top degree grades were awarded.
Medicine and economics were likely to deliver the highest returns - and studying at a selective Russell Group university also boosted future average earnings.
Creative arts were more likely to deliver below-average earnings, compared with other graduates.
But Mr Gyimah said this was not a reason to stop teaching creative arts, but to make sure courses were high quality and ensure that students had good future opportunities in the jobs market.
"It's not whether or not you offer creative arts, it's whether or not you offer creative arts that is truly competitive, so you are not putting on courses that are cheap to offer, that are threadbare and not as competitive as they could be," said the minister.
He argued that more transparent data would give students more consumer information to help them make decisions about courses.
Mr Gyimah was speaking at an event launching an annual survey of student perceptions of their courses, run by the Higher Education Policy Institute (Hepi).
But Nick Hillman, director of the Higher Education Policy Institute (Hepi), which produced the report, said the findings on value for money showed more positive views were emerging.
There were 38% of students saying they had good or very good value for money from their course, up from 35% last year.
The survey suggests a strong link between the perceived quality of teaching and whether students felt they were getting enough hours with academic staff.
Students with longer hours were much more likely to be satisfied - with those with fewer than nine hours a week of contact time likely to be the least convinced they were getting value for money.
The annual report indicates that despite fees in England having increased sharply, from £1,000 to £3,000 and then £9,000, university courses have barely changed in terms of average contact time.
Alison Johns, chief executive of the higher education equality agency Advance HE, which co-produced the report, said: "Significant numbers of students report not being satisfied with their higher education experience. Overall the results send a clear signal that there is more work to be done."
Alistair Jarvis, chief executive of Universities UK, said: "A university degree remains an excellent investment. On average, graduates continue to earn £10,000 per year more than the average non-graduate and are more likely to be in employment."
Are you satisfied with your university course? Do you feel it is value for money? What would you change to make the experience a better one?
Please include a contact number if you are willing to speak to a BBC journalist. You can also contact us in the following ways: