Grammar schools: Do they encourage social mobility?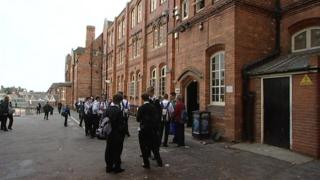 The government has said it will give grammar schools in England the chance to create thousands of new places in a trimmed-down selective school expansion programme.
This will also extend to faith schools.
Former pupils of grammar schools, and parents of current students, share their views of an often divisive issue.
'Passing the 11-plus was the saving of me'
Jackie Lupton lives in Eastleigh, in Hampshire. She attended a grammar school between 1968 and 1975.
"I'm the daughter of a postman and a factory worker.
"Passing the 11-plus was the saving of me - our local comprehensive was huge and had a reputation - perhaps unfairly - of being quite rough.
"I was a shy child and the likelihood is that I would have just been swallowed up by the system.
"My grammar school wasn't without fault.
"The classes were still 30-plus, it was very gender-biased in its choice of subjects and career advice. Discipline was also strict.
"However, I achieved eight O-levels and two A-levels and my education left me with a thirst for knowledge which led to another A-level and an Open University degree.
"I'm grateful to my parents who beggared themselves to provide me with the uniform and sports clothes.
"I'm also glad that 'the system' allowed me to become a grammar school kid."
'Grammar schools are divisive and anti-inclusion'
Jo Mackie lives in London. She attended grammar school between 1978 and 1986.
"I passed the 11-plus and attended a girls' grammar in Bournemouth.
"It was elitist and awful. My aspiration came from my parents and my home life, not from the teachers at my school.
"My children will not sit the exam - grammar schools are divisive and anti-inclusion.
"At a time when the state services are being hollowed out and cut to smithereens, this is an awful idea."
You may also like:
'She enjoys learning for learning's sake '
Ian Vince lives in Cambridgeshire. He has two daughters, one of whom attends a grammar school.
"I have two daughters, both of whom passed the 11-plus.
"Looking at the local grammar school, my ex-wife and I felt the style and quality of education offered would not suit our eldest daughter.
"She enjoys learning for learning's sake and went instead to a high school which is slightly further away that appeared to offer a more rounded education.
"She is in Year 11, so the main GCSE exams start on Monday, and is projected to get all 8s and 9s.
"My younger daughter, now in Year 10, is a lot more competitive.
"We felt going to the grammar school would best suit her and gain the best grades she could. I actually regret that decision.
"While she is at or near the top of her year group in all subjects, driven by her internal competitive nature, I wonder if that will be to her detriment in the longer term."
'If both schools are expanded, it would be awful for the town'
Mike Tipping lives in Henley-in-Arden. His two sons attend grammar school in nearby Alchester.
"In Warwickshire, we have both grammars and faith-based secondary schools.
"However, the council only provide transport to your closest school, which is unlikely to be the grammar or faith school.
"If your child is lucky enough to pass the 11-plus you have the choice of paying £1,000 a year for a bus pass or send them to the local comprehensive for free.
"My sons go to school near where I work so I don't have to worry about finding a parking space.
"Mornings are total carnage as parents from about 30 miles around drive their children to school because there aren't any buses.
"If both schools are expanded, it would be awful for the town."
By Bernadette McCague, BBC UGC & Social News