Student loans boss Steve Lamey hired 'against advice'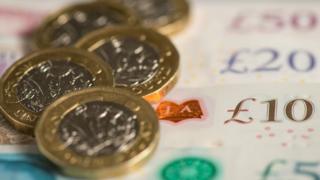 The man hired to run the Student Loans Company was appointed against officials' advice and without having his references checked, a report says.
Steve Lamey was made chief executive in June 2016 on a year's probation.
Within 18 months he was sacked for gross misconduct after whistleblowers made 69 allegations of wrongdoing.
A National Audit Office probe into the government's oversight of the firm said despite the reservations, it failed to properly monitor the appointment.
It is the first time the details of Mr Lamey's tenure and dismissal have been revealed.
The Student Loans Company oversees £100bn worth of debt to the public purse, processes 1.8 million applications a year and has more than eight million customers.
The appointment panel identified one suitable candidate for the job, Mr Lamey.
'Whistleblowers'
But once Business, Innovation and Skills (Bis) officials received references from Mr Lamey's former employer - HM Revenue and Customs, which he left in 2012 - they recommended that the recruitment process was re-run.
Mr Lamey's most recent employer declined to provide references and references were not sought from his clients, the NAO found.
It reported that a special adviser to the then Secretary of State, Jo Johnson, intervened, saying it would be costly to re-run the recruitment process.
Mr Lamey went on to be appointed on a probationary period, but only two of four suggested ongoing safeguards devised to monitor the appointment were carried out once he was in post.
In November 2016, departmental officials apparently attended a conference where Mr Lamey was openly critical of his own company, but took no action.
By the end of March 2017, Mr Lamey received a positive appraisal and he was confirmed in post at the end of May.
'No finance director'
Almost simultaneously a whistleblower emerged making 12 allegations against Mr Lamey and other members of his team.
And within two months another had come forward with 57 other allegations.
Ultimately, a disciplinary panel found Mr Lamey had breached four of the seven principles of standards in public life including integrity, objectivity, accountability and leadership.
It found he did not adhere to rules governing the managing of public money, carrying out procurements or follow proper decision-making processes.
One key failing the report highlighted was the lack of a finance director on the executive leadership team.
'Oversight'
A Department for Education spokesperson said: "We take any allegations of inappropriate behaviour extremely seriously and are pleased that the NAO found that the department and SLC acted swiftly as soon as whistleblowers raised concerns regarding Mr Lamey's behaviour.
"He was subsequently dismissed after two independent investigations for gross misconduct.
"After assuming oversight of the Student Loans Company in 2016, we reviewed and introduced changes to our oversight measures, including quarterly shareholder meetings to discuss performance and risk management.
"A review of governance is currently under way to see how we can build on those measures to ensure that the SLC is well supported to continue delivering student finance that helps millions of UK students invest in their future."
Chair of the Public Accounts Committee, Meg Hillier, said: "This is a story of the failure of two departments to effectively monitor a public body under their watch.
"The concerns raised by officials about Mr Lamey's appointment should have been taken more seriously by BIS."