How to lose the Sats stress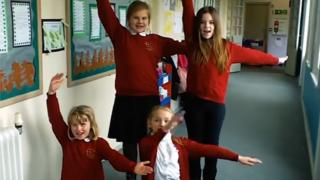 It's exam time in primary schools across England. Years Two and Six are taking national curriculum tests, which cover reading, arithmetic, spelling, grammar and punctuation.
If you have children taking them, you will know how stressful it can be.
But a school in Hampshire has found a way of making Sats less scary.
Staff and students at Brockhurst Primary School in Gosport have written their own lyrics to Counting Stars by OneRebublic.
Year Six teacher Sarah Cox says: "It's a teacher's natural instinct to help. And it's awful to see any student struggling. So we do a lot of things at the school to help with Sats stress.
"We've tried to make revision fun by giving them treasure hunts and quizzes.
"This video has been a big part of de-stressing the children."
Sarah, with fellow teacher Jamie Hill, rewrote the lyrics in an afternoon. And then the children came up with their own ideas about what to include in the video - The Floss dance features, of course.