Lower proof for misconduct claims, students say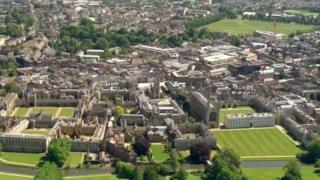 Pressure over the way Cambridge deals with sexual misconduct claims could lead to a lowering of the standard of proof for student disciplinary cases.
Students complained in an open letter to university bosses that the current system "actively discourages" victims of sexual assault from coming forward.
Currently, Cambridge uses the criminal standard of proof, beyond reasonable doubt, for disciplinary cases.
But students say decisions should be based on the balance of probabilities.
This is the burden of proof used in civil courts.
'Not a criminal court'
It comes after Cambridge University admitted it had a "significant problem" with 239 reports of sexual misconduct between May 2017 and February 2018.
Cambridge has launched a consultation on possible changes to its disciplinary processes, which it says have not been reviewed for "some time".
These include separating the disciplinary procedures relating to students and former students from those relating to staff.
As well as consulting on changing the burden of proof, the document suggests removing certain legalistic language from procedures to reflect that cases are being heard in a civil setting rather than a criminal one.
More than 800 students signed an open letter from the Women's Campaign to Cambridge's vice-chancellor, Prof Stephen Toope, on the issue.
The letter said: "The University of Cambridge is not a criminal court and it should not behave as such.
"The penalties that may be inflicted on a student by the university have no effect on their criminal record or their standing in the eyes of the law.
"Far from demonstrating the university's ability to be just and fair, the disciplinary procedure as it stands is not only archaic and inaccessible, it is completely antithetical to the university's commitment to 'continuously work to improve the prevention, response, support and investigation of all instances of harassment and sexual misconduct and to enable staff and students to make disclosures without fear of reprisal'.
'Undue stress'
"Upholding a criminal standard of proof actively discourages survivors and victims of sexual harassment, rape and assault from engaging with the disciplinary procedure."
Students said changing the disciplinary system "will give survivors and victims of sexual assault more confidence to access it".
They added that proving cases of sexual assault beyond reasonable doubt "places undue stress" on complainants.
The letter acknowledges a range of proof levels for misconduct cases across UK and US universities but adds that almost all professional bodies, including the General Medical Council and Bar Standards Board, use the balance of probabilities as their standard of proof when looking at misconduct cases.
The head of Cambridge's Office for Student Conduct, Complaints and Appeals, Sarah D'Ambrumenil, said: "The university is currently in a period of consultation about the disciplinary procedure - the discussion is an ideal opportunity for all members of the university to bring forward their views about the standard of proof.
"This will enable the review committee on discipline to reach the best decision for the university, which would ultimately be subject to further university consultation, but we cannot pre-judge what that decision will be."
NUS Women's Officer Hareem Ghani said: "We know there are many students who feel unable to report sexual abuse or harassment - particularly when there is a power imbalance, as our recent report into student-staff sexual misconduct has shown.
"The sad truth is that students will often abstain from reporting insistences due to the undue stress it places upon the survivor, or through fear of repercussions.
"Guidelines offered by Universities UK suggests that rather than a requirement to prove beyond doubt that an incident took place, institutions should be encouraged instead to adopt a balance of probability approach."