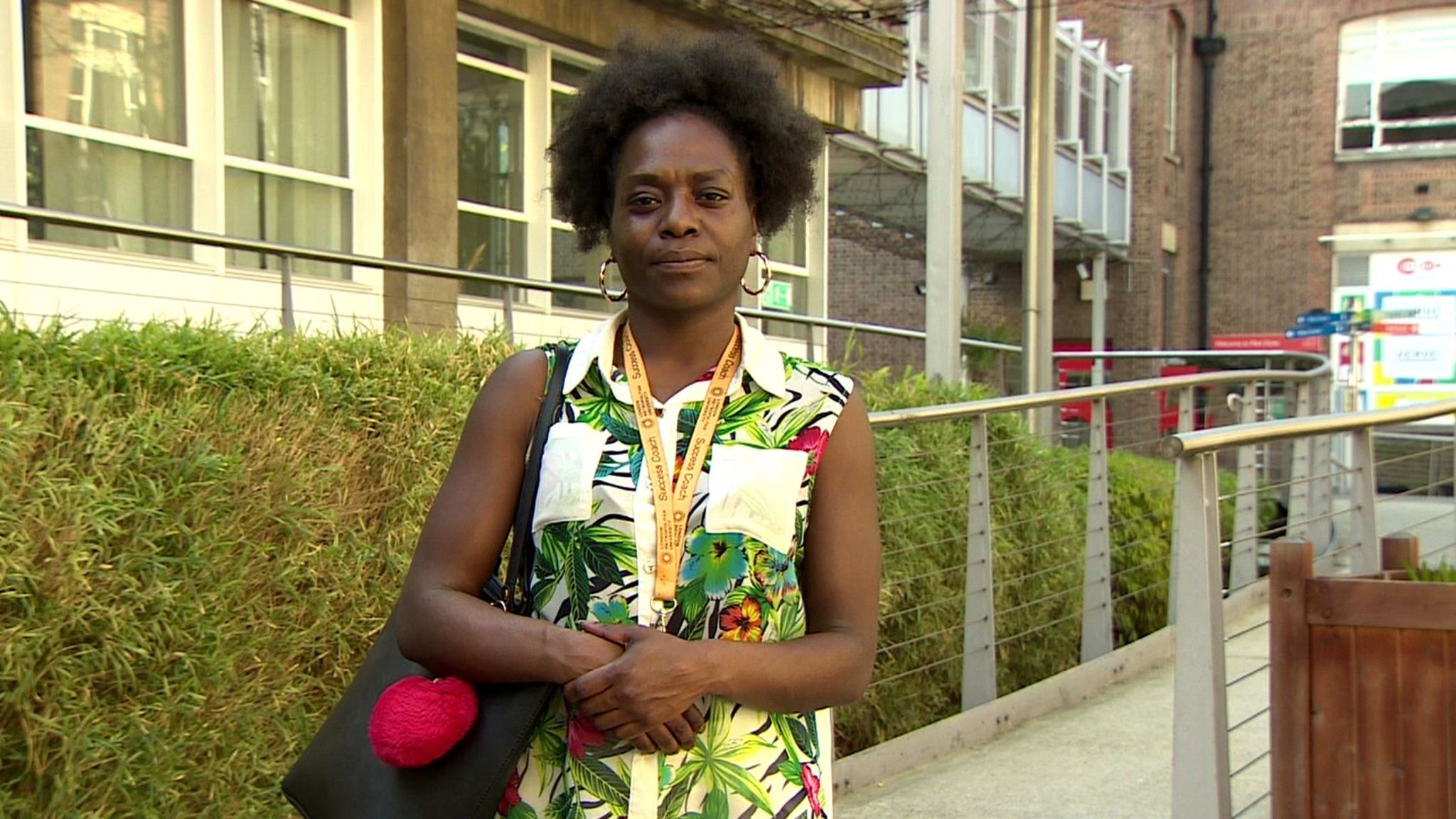 "Sometimes I didn't have money for lunch," says second-year university student Selina Anderson.
Before her son started school, the single mum struggled to pay for the childcare to study full-time.
She is one of the students who face too many financial barriers, according to the National Union of Students.
The NUS set up a poverty commission to gather evidence on the experiences of students from the age of 16.
Its report, which will be published on Monday, argues that wherever they study, the costs for working class students are a major hurdle.
The government says its review of funding for post-18 study will consider better value for money for students. It also says more disadvantaged students than ever are going to university.
"I had to close my eyes to the debt I was getting into, thinking in the long run it will be better for me," says Selina, who's in her 30s and studies at London Metropolitan University.
Her son Kaelan was still in nursery when she started her degree, and the support for childcare didn't cover the full cost.
"Many times I didn't eat during the day because it meant I could travel in to uni. Sometimes I'd walk instead to make sure I had money for the shopping."
Selina is getting through university with support from her family, who she can turn to for meals when money is tight.
The NUS panel heard evidence about the costs of living and studying for students at further education colleges, universities, and in apprenticeships.
Shakira Martin, NUS president, told the BBC: "I believe the system as it currently stands is totally unfair.
"Students that are coming from working class and disadvantaged families, end up leaving university with more debt than those from middle class families."
Economists at the independent Institute for Fiscal Studies have estimated that the university students from the poorest backgrounds end up borrowing around £57,000.
They have been disproportionately affected by the shift from maintenance grants to loans in England.
The government argued that the shift to loans increased the cash in hand available to poorer students, and the repayment threshold to start repaying has gone up to £25,000 a year for graduates.
But the NUS report also covers further education, where students are most likely to be from lower income homes.
Shakira Martin says its easy to forget the impact of incidental costs. "The cost of travel is high, the accessibility of travel is really low.
"In addition to childcare costs, council taxes and equipment, these indirect costs are hugely affecting student experience, and ultimately affect the grades they can come out with."
For apprentices finances can be tight too.
The Apprentice National Minimum Wages has recently increased by more than 5%, but is still just £3.70 an hour.
James Haig is supporting himself through an apprenticeship in Hull, as he's no longer living with his parents.
"When you haven't got a family behind you, you've got to pay stuff you might not think you have to at this age."
James feels lucky - his boss has increased his pay to £5 an hour.
The NUS wants the government to regularly update its estimates of how much students have to spend and the actual cost of living and studying.
It's calling for the government to restore maintenance grants for university students and improve support for those at college.
The report also calls for institutions to do more to reduce costs, particularly accommodation, where students from poorer families get into debt to pay rent deposits.
A spokesman for the Department for Education in England said: "No young person should experience barriers to their education - and our reforms to higher, further and technical education are going further than any before to make sure that every young person can fulfil their potential, whatever their background."
Ministers argue the number of disadvantaged students gong to university has been growing, and apprenticeships offer a high-quality training route.
But there has been growing disquiet about the total cost of university for the poorest students.
The government recently launched a review of the funding of post-18 education, including further education and university study, which it says will "consider how we can make sure students get more choice and value for money whatever form of education they choose".
The NUS intends to look at the experiences of students from other parts of the UK.
Major change is underway in Wales, which from this September will offer the most generous maintenance.
Every student will get a £1000 grant towards living costs, with the poorest students from Wales getting at least £8,000 in a maintenance grant regardless of where they go to university.