'I want to be the first in my family at university'
Sean Coughlan
Education correspondent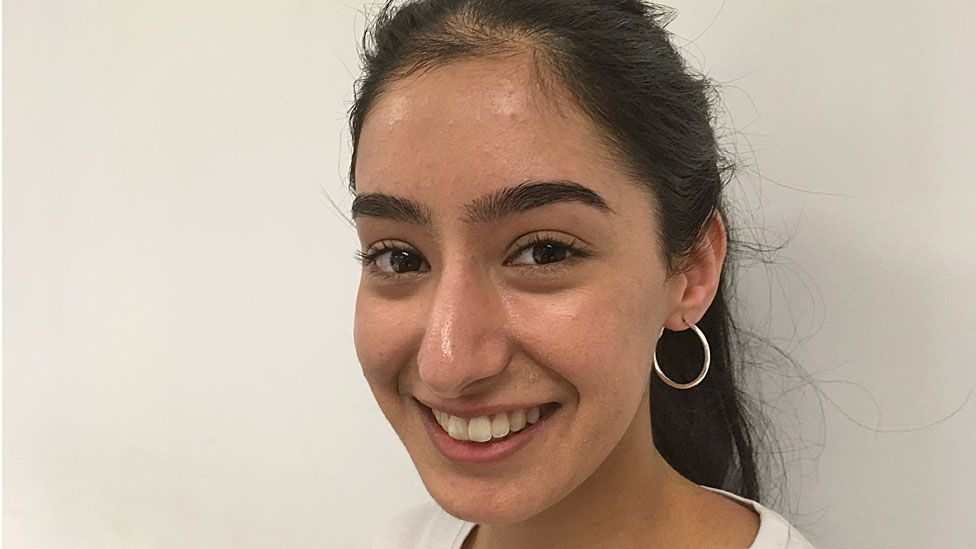 "I get butterflies thinking about it," says Firzah.
She's in her last year at school and approaching her exams - and, if all goes well, this autumn she has the ambition to become the first person in her family to go to university.
Her plan is to study psychology at Manchester Metropolitan University and have a career that her dad, a taxi driver originally from Pakistan, never had the chance to achieve.
Firzah is part of the inaugural cohort of a First Generation project that supports the applications of bright young people who have no experience of university in their families and are likely to come from disadvantaged backgrounds.
It's for people who might have walked past a university and thought of it as something "snobbish" or "elitist" and not for them.
It's a big decision - and Firzah worries about "not fitting in" and the cost of fees, but she wants to make the leap and become a student.
Too many people from her background "underestimate themselves", she says. But she isn't going to be one of them any more.
So what makes the difference? Why does a young person decide to apply for something unknown and unfamiliar?
These are big questions - not just for youngsters applying to Manchester Metropolitan University - but across England's higher education sector.
The prime minister's tuition fee review - rumbling away in the background behind closed doors - is meant to deliver a funding system that protects access for all those with the ability.
So how much are tuition fees a deterrent to applying?
"I'd lower fees. It can scare people off," says Shuab, another applicant.
He is ready to take on the financial burden, but the cost changes choices in other ways.
Shuab says he might have preferred to study politics but is applying for accountancy because after paying so much he wants to maximise his earning power.
It also changes expectations. Shuab says he didn't want a university where students were being crammed on courses and "treated like cattle".
Firzah and Shuab - and other students on this access project - intend to carry on living at home with their parents rather than have the expense of university accommodation.
Tanzeela, who wants to be a lawyer, says going to university is a "dream for my family". But it's about work and getting a job, not about ideas and ideologies.
Julan says it's not about the social life either - because he doesn't need a university for that. What's important, he says, is improving his chances of not ending up in "a dead-end job".
The project at Manchester Met has been deliberately designed around the greatest concerns of these working-class youngsters.
There are big efforts to "demystify" the finance and fees - with sessions for the students and their parents.
Peter Riley, head of widening participation at the university, says the headline figure for tuition fees can be a barrier to overcome.
There is also an emphasis on employability and showing how the university can help put young people on the path to a good career.
The idea of university as a worthwhile investment for a better chance in the jobs market is central to their decision to apply.
But changing perceptions is one of the toughest challenges.
Shuab says he had thought of universities as "closed off" and "elitist".
"I'd seen them as middle-class. People who went there spoke in a certain way, looked a certain way."
This view, he says, has been overturned by his contacts with the First Generation scheme.
It now seems a more familiar and less forbidding prospect - and all of the applicants talk about the importance of being able to ask questions of Helen Lord, who runs the access project and provides a personal contact if there are any worries.
The debates about tuition fees and student funding have often come back to how universities can support social mobility.
They spend about £800m per year between them on widening access, but sometimes with uneven results - with children from wealthy families still far more likely to go to university.
For many middle class families, it's often a question of choosing which university - rather than deciding whether to apply at all.
But it's places such as Manchester Met where the groundwork on social mobility really happens. Most of the students here are from families where parents hadn't gone to university, 97% are from state schools.
One of the local MPs, Mike Kane, the shadow schools minister, was a "first generation" student there himself.
"On leaving school I followed in the footsteps of my father as many young men do, and worked as a labourer in the building trade," says Mr Kane.
"However, motivated by the freezing cold conditions during the winter months, I took the decision to go back into education as a mature student at Manchester Metropolitan University," says the MP for Wythenshawe and Sale East.
"Like many young people from working-class backgrounds who have been able to attend university, I understand the change in outlook and the access to opportunities and experiences that attending university can bring," says Mr Kane.
In terms of social mobility, the second chance of going to university as an adult studying part-time is now much less likely.
The combination of the financial crash and the increase in fees has seen a 61% plunge in part-time undergraduate student numbers in the past decade.
It means that if there is going to be a widening of access, it's now more important than ever to reach school leavers.
Who will fees shake-up benefit?
But will the shake-up in fees reflect the needs of such new universities, often attracting more disadvantaged youngsters?
Will it support the Russell Group universities at the top end of academic rankings, often with a wealthier intake?
Or will it support those at the top of rankings for recruiting from disadvantaged areas?
As an example, London Metropolitan University's law course has 68% of students from the most deprived communities and more than 80% go into high-skilled graduate jobs - changing their life chances on the way.
Most of its students are mature, more than half are from ethnic minorities.
John Raftery, vice-chancellor of London Met, says the fees review should support this.
He wants a higher education equivalent of the pupil premium that supports disadvantaged pupils in school and maintenance grants to be restored for poorer students.
But there have been suggestions that tuition fees will be linked to how much graduates are likely to earn.
Bill Rammell, vice-chancellor of the University of Bedfordshire, says this would be an "enormous risk", which would financially punish those universities recruiting from poorer students, quite likely to have lower earnings than those leaving Russell Group universities.
He warns it would damage the institutions "doing the heavy lifting to promote social mobility".
Meanwhile, the First Generation students, on a sunny day in Manchester, are waiting for a summer of exams and the prospect of starting university that could change the direction of their lives.