Illegal schools: Ministers promise crackdown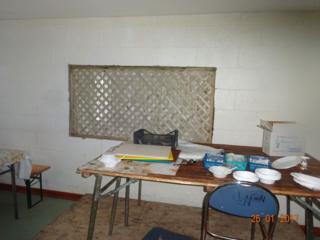 Ministers are promising new measures to crack down on illegal schools, including new powers for Ofsted to seize evidence and question witnesses.
A new legal obligation for schools to register will be created "as soon as possible" under the proposals.
The move follows concerns some ultra orthodox Jewish and Muslim children are being denied a basic education.
Ofsted currently struggles to gather evidence to prosecute people running illegal schools.
Both the current Chief Inspector of Schools, Amanda Spielman, and her predecessor Michael Wilshaw, have told the BBC they needed stronger powers.
A recent BBC investigation highlighted frustration about the lack of legal powers and loopholes in the law.
Should a school be in a place like this?
Abuse concerns over unregistered schools
Ofsted told the BBC, its inspector had to watch while children were ushered out the back door by adults who disappeared.
By the end of January this year a specialist team of inspectors had uncovered 176 places it said were operating as schools but were not registered.
While many have been identified as Jewish or Muslim, 43% are providing an alternative to mainstream school for excluded children.
Hours of education
The government is proposing to legislate to require anywhere where children spend more than 18 hours to register as a school.
This stops short of the measures proposed by ministers in 2015 which did not specify school hours.
Mosques and some Christian groups expressed concern this would force routine religious instruction in madrasas or Sunday schools to be regulated.
England's Education Secretary Damian Hinds said the government wanted to ensure all children learned "the values that underpin our society, including fairness, tolerance and respect".
"These are values that help knit our communities together, which is why education is at the heart of this strategy.
"It's also important that children are taught in a safe environment and that we can act quickly if children are at risk or being encouraged to undermine these values. Together, with Ofsted and communities across the country, we will build on the work already underway to achieve this."
However, a lack of parliamentary time means this might not happen before the next election.
And without greater legal clarity it might still prove difficult to bring prosecutions even with stronger powers for Ofsted.
Some unregistered settings have been operating in a grey area of the law with parents insisting they are part of home education.
The government says it will clarify the regulations on home education, but is not planning to change them.
---
If you have any information or experience with unregistered schools that you are willing to share with the BBC you can get in touch with us at haveyoursay@bbc.co.uk
Your details and any information you send will be treated in confidence.
You can also contact us in the following ways:
WhatsApp: +44 7555 173285
Text an SMS or MMS to 61124 (UK)
Please read our terms & conditions