Degree courses to be rated gold, silver and bronze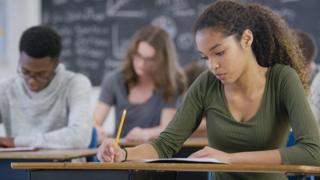 Degree courses are to be rated for quality, subject by subject, under a new pilot scheme which ministers say leaves universities "no place to hide".
Individual subjects at different universities will be graded gold, silver or bronze by a new tool feeding in official data on teaching quality.
But students will not be able to use the rankings to choose their courses until 2020, when the tool goes live.
Universities say the assessment of subjects must be effective.
'Lagging behind'
The new system to rate teaching is part of the government's attempt to get tough on universities, which charge students nearly £30,000 for a three-year degree, and have come under fire for paying their senior managers very high salaries.
The degrees that make you rich... and the ones that don't
Universities Minister Sam Gyimah said: "Prospective students deserve to know which courses deliver great teaching and great outcomes - and which ones are lagging behind.
"In the age of the student, universities will no longer be able to hide if their teaching quality is not up to the world-class standard that we expect."
The plans, which are to be piloted with 50 universities initially, builds on the new ranking system for universities overall.
Graduate salaries
This is also supported by data from the Teaching Excellence Framework (TEF) which combines a range of data on course teaching to arrive at the ranking.
And there will also be information on which jobs students go on to, how much they earn and how many drop out.
A consultation on the way the new framework will operate is being launched and will last 10 weeks.
Analysis by Branwen Jeffereys
BBC Education Editor
---
How do you choose a uni course? It's probably a complex mix of open days and surfing glossy, promotional videos on YouTube.
By 2020 the government says information like drop-out rates and graduate earnings could allow comparisons between broadly similar courses at different universities.
It will be based on research by the Institute for Fiscal Studies and the University of Cambridge linking information from school pupils, through student finance to tax records.
Experimental statistics comparing universities have already been published. But to be credible the will have to take a lot into account.
One university might admit a lot of students with high grades and well off families who can support them through doing unpaid work experience when they leave. Another may recruit more students from low income families.
Many universities recruit largely in their region, and earnings are higher in the south east of England than the North West. So simple comparisons won't be easy, but the information could help some make a more informed decision.
---
A spokesman for Universities UK said: "TEF will stand or fall by whether it can provide accurate and meaningful information to inform student choice.
"The assessment of subjects needs to be effective and not overly burdensome."
It added that the independent review of fees, to be held in the next year, would be important in judging the success of the idea.
The National Union of Students questioned the depth of the information covered by the grading system.
NUS vice-president (higher education) Amatey Doku said: "Unfortunately the Teaching Excellence Framework does little to measure teaching excellence and extending it to subject-level won't solve the problem.
"The metrics used tell us little about the quality of teaching but instead [it] opens the door for institutions to attempt to game their metrics rather than drive continuous improvement of their teaching practices.
"With the promised independent review into TEF still under way, it is an irresponsible move to make without the recommendations from the review or the input of students' voices."