Teenagers 'need more than GCSEs'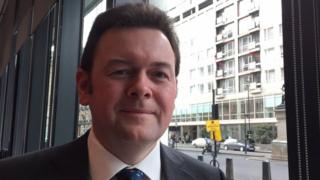 "A 'Gradgrind' view of preparing people for the workforce is failing."
The managing director of the CBI says he's worried about the emphasis in England's school system on rote learning techniques.
Neil Carberry is only half joking when he invokes one of Charles Dicken's least loveable characters, Thomas Gradgrind, the hard-hearted, fact-obsessed school superintendant in Hard Times.
"We want human beings who do human things really well because, the way technology is changing, that's where the jobs will be in years to come."
Speaking at the launch of a new education strategy for the BBC, he said simply focusing on getting teenagers to the age of 16 with a clutch of GCSEs was not enough.
"We need a whole education approach to young people including the ability to work in teams, to be resilient, and to present well."
He's concerned there is more emphasis now on memorising facts, than in school systems in other advanced economies.
"Facts matter in education, times tables matter. Basic maths and literacy are the gateways to good careers. But we can teach them in more engaging ways which develop other skills."
Rather than what Neil Carberry describes as "'Gradgrindish' repeating of times tables in the classroom", he says knowledge should be used in a context that makes it relevant.
What children learn in England has been re-centred around a curriculum with an emphasis on knowledge in core academic subjects.
Trials of times tables tests are just beginning in English schools.
The schools minister Nick Gibb has argued it will make sure 11 year olds "leave primary school knowing their times tables by heart and able to start secondary school with a secure grasp of fundamental arithmetic".
In Scotland and Wales, the emphasis has been shifting more to the kind of reasoning skills that score better in international education tests.
The CBI is one of the organisations which has advised the BBC on developing a new education strategy which will include a focus on careers advice, helping build children's self esteem and making it easier for adults to retrain.