Do commuter students lose out?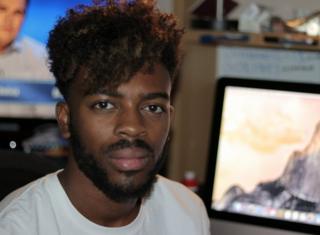 "It couldn't have worked out any better for me," says Anjum James-Francis.
The 20-year-old is in his third year of being a commuter student at Newman University in Birmingham.
The university has one of the highest rates of students studying for a degree while living at home.
Research published on Tuesday by The Sutton Trust charity warns that cost could be putting off some students from leaving home to study.
But for Anjum, being a commuter student has allowed him to save money, study hard and still have the social life he wants.
He's in his final year of studying for a degree in sport and exercise, before training to be a PE teacher.
"Sometimes you might feel a bit detached, but that's not always a bad thing," he says.
"I can leave uni and go home to plan what I need to do, rather than being in a big house with mates where you might just want to have a laugh and a joke."
Financial leeway
Instead of spending his maintenance loan mainly on accommodation, Anjum says he's had a bit more financial leeway to take up other opportunities.
These include a sport coaching trip to Gambia and going to the United States to work on a summer camp.
Anjum had a choice of universities within a short travel distance because he lives in Birmingham.
At Newman his experience is not unusual, as 76% of its students travel only a short distance from their family homes.
The research is based on data from all students in the UK.
It says around a quarter of all undergraduates are commuter students.
British Pakistani and British Bangladeshi students are over six times more likely than white students to live at home and study nearby.
The cost of going to university further away is identified as one of the main reasons for choosing to be a commuter student.
Students from the poorest families are three times more likely to live at home than those from the richest families.
Sir Peter Lampl, chairman of the Sutton Trust, said: "In the modern economy it is often those who are most mobile who are most likely to find success.
"Moving away to university can be an important first step. Moving to London, or other large cities in the UK, can be an 'escalator' for social mobility.
"But too often, the opportunity to move away to attend university is restricted to those from better off homes."
Education Secretary Damian Hinds has suggested that increasing the number of commuter degrees could help cut the cost of going to university.
A review of post-18 education in England, announced last week, will look at how different ways of studying for a degree could be encouraged.
The Sutton Trust says it should look at greater financial support for living costs for poorer students by restoring maintenance grants.
But the charity also says universities could do more to support existing commuter students through simple steps such as scheduling lectures to avoid expensive peak travel times.
A Department for Education spokesperson said record rates of 18-year-olds, including those from disadvantaged backgrounds, were entering full-time university.
"The government's review of post-18 education and funding will consider how we can encourage and support learning that is more flexible for students - for example, part-time, distance learning and commuter study options."