University pension boss's £82,000 pay rise
By Sean Coughlan
BBC News education and family correspondent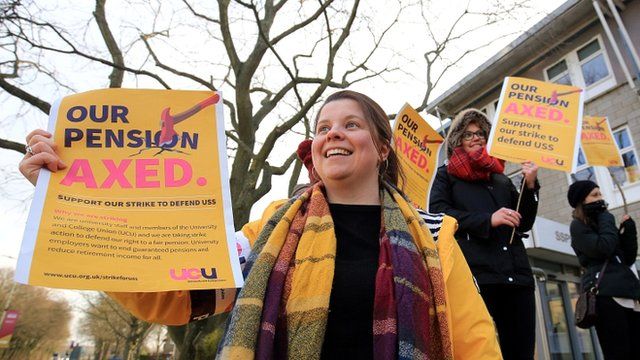 Bill Galvin's pay package had risen from £484,000 to £566,000, said a spokeswoman for the Universities Superannuation Scheme (USS).
Running costs for the university pension scheme were £125m per year - including two staff earning over £1m.
Mr Galvin has described the pension scheme as "excellent value".
Sally Hunt, leader of the UCU lecturers' union, said: "Whatever happens with this dispute, it is time for a proper look at what is happening with USS.
"Staff forced out on strike today will no doubt look at the salaries enjoyed by some of those in charge of the scheme and wonder what exactly they are doing to justify the salary and safeguard the pensions."
University employers have claimed there is a £6bn deficit in the pension scheme - and although unions have challenged the size of the shortfall, they say proposals to address the deficit will mean cutting their retirement income by £10,000 per year.
The pension scheme is run by professional managers and a board including university leaders and representatives of the UCU union.
There had been complaints about "fat cat" salaries for senior staff while lecturers' pay had been capped, but the head of the lecturers' pension scheme this year received a 17% increase.
The running costs of the pension scheme for the last year of accounts, ending March 2017, were £124.9m, an increase of more than £6m on the previous year.
Staff costs were £61m, including two staff earning between £1m and £1.25m, with 113 staff earning more than £100,000 - 18 more than in the previous year.
The numbers earning between £100,000 and £150,000 had almost doubled in a year, from 22 to 40, a further 21 staff were earning between £150,000 and £200,000 and five were earning between £400,000 and £450,000.
Chief executive Bill Galvin, with salary and benefits worth £566,000, was not the highest paid, with the top earners thought to be investment staff.
Mr Galvin, writing in the annual accounts, said that "no doubt that overall, USS provides excellent value for money for the products and services we provide".
A spokeswoman for the £60bn university pension scheme said it offered "above-average investment performance at below-average cost".
"Our investment performance has been consistently good - reducing the contributions that would otherwise be required of members and employers.
"USS is focused on delivering value for its members and its investment costs, relative to assets under management," said the spokeswoman, who said the running costs of the scheme were £61m lower than its peers, according to independent benchmarking.
Universities UK and the Department for Education said such costs were a matter for the pension scheme.