Will fees review make any difference?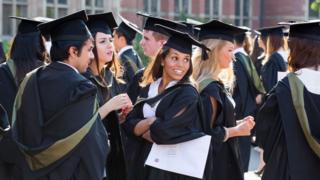 Is anything going to happen as a result of the review of university costs in England?
There had been claims that a year-long review would be a delaying tactic that would let ministers put off any tough decisions, allowing them to dodge difficult questions about tuition fees by saying they "don't want to pre-empt the findings of the review".
But Theresa May has already made one of the biggest calls, effectively ruling out scrapping tuition fees, and drawing up the battle lines against one of Labour's most youth-friendly policies.
The prime minister said it would not be fair on taxpayers who didn't go to university, it would leave higher education in a losing struggle for funding with schools and hospitals, and it would mean limiting university places and funding.
And although the prime minister conceded the current system in England was more expensive than almost anywhere else in the world, there were no signs, from anything said by ministers publicly or briefed privately, to suggest the tuition fee level was expected to be radically reduced.
It's an independent review so might take its own unexpected path, but the trajectory from the launch seemed to be towards changing the current system rather than inventing a new one.
There were no signs of any slashing of fees.
The idea of students paying back fees is the assumed starting point - and alternative approaches such as a graduate tax seem to be downplayed.
That means focusing on the lower-hanging fruit in terms of cutting costs - such as cutting interest rates, which are currently up to 6.1%, and have been attacked as bafflingly high by a long line of former Conservative and Labour education ministers.
The example of Wales could also be followed, with an emphasis on ensuring more maintenance support while students are studying.
The most immediate effect will be that the freeze on tuition fees of £9,250 is almost certainly going to be extended - probably indefinitely.
It's a big change from only a year ago, when the government decided to allow universities to increase fees every year, which would have seen them soon heading over £10,000.
But with a review lasting a year, fees are not going up until at least the application cycle for 2020-21.
In such uncertain political waters - and with Labour promising to completely scrap fees - it's hard to imagine that any outcome from the review will see fees being allowed to rise.
More for science?
The Education Secretary, Damian Hinds, has called for more "variety" in fees - concerned that almost every course at every university is charged at the maximum £9,250 per year.
This has been interpreted as suggesting that some courses - such as arts and humanities - could be made cheaper than sciences, which are more expensive to deliver and where graduate earnings are likely to be higher.
But this is far from straightforward. If arts subjects had lower fees, it might act as a disincentive to apply for science subjects, particularly for those poorer students most sensitive to the cost.
It would also tend to give even higher levels of tuition fee income to the most prestigious courses and institutions - described by Lord Willetts as a "reverse pupil premium".
Such unintended consequences make such "differential fees" less likely to be recommended.
The other big complication in trying to create a variable market in fees is that the level of fees is directly connected to the loan system that underpins it.
This type of "voucher system", where the student has a guaranteed amount of public support, has an in-built tendency to see all providers pushing up their charges to the maximum of the subsidy.
Struggling parents
There will be other particular expectations from the review.
There is a consensus that more support is needed for part-time students and those wanting to work and study.
This will also be a broader post-18 review, with an expectation that vocational and technical training will receive more support.
A much overlooked constituency in all this has been parents, who often have to fill the gaps in student living costs.
Parents, who might be struggling themselves after years of wage stagnation, might be facing difficult bills for their student children's accommodation.
Nick Hillman, director of the Higher Education Policy Unit, said the prime minister's review team had "enormous expectations on their shoulders".
There is a long shopping list of demands for reducing fees and at the same time increasing levels of support.
"The government has encouraged this speculation but it will be hard to satisfy all the hopes, especially if the Treasury is not willing to allow additional public spending on post-compulsory education," said Mr Hillman.