Times table check trialled ahead of rollout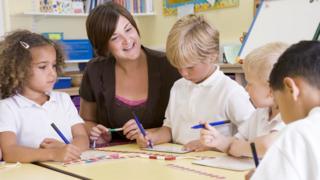 Thousands of eight and nine-year-olds in England's primary schools will take a new times tables check this spring.
Some 7,250 pupils in 290 primaries, are expected to take part in the trials of the new multiplication check.
The five-minute test, taken by children in Year 4, will then be fully rolled out over the next two years.
Ministers say the test will identify those struggling, but teaching unions have raised concerns about its benefits.
Supporters have argued that it will help to ensure all children know their tables up to 12 off by heart, but opponents say primary school children are already heavily tested.
Nick Brook, deputy general secretary of the National Association of Head Teachers said it was "hugely disappointing" that the Department for Education was still determined to bring in a multiplication tables test.
"This test won't tell teachers and parents anything they don't already know about their children. Although school results won't be published, this government test will be scrutinised by Ofsted when they visit and will therefore become even more significant.
"A pupil's primary school years are already cluttered with tests and checks. We want all children to succeed at school, but the answer isn't to test them more."
Mike Ellicock, chief executive of National Numeracy, said: "While the introduction of this test is underpinned by good intentions, we need to be careful not to knock the joy out of children's early mathematical experiences or distract schools from building children's real understanding of numbers.
"Knowing your tables is valuable - we all use them in everyday life - but what is more important is having a real feel for numbers and understanding the patterns behind times tables so children can use the knowledge flexibly in the real world.
"The danger in putting so much emphasis on tables testing - effectively on rote learning - is that it becomes a box-ticking exercise, and hinders the development of practical number sense."
The former Ofsted chief, Sir Michael Wilshaw, has welcomed the times table trial, saying he is sure it will "make a difference".
"Good head teachers and good teachers never mind youngsters being tested. Nothing is taught unless it's learnt," he told BBC Radio 5 Live.
"I think there's a place for rote learning, but any good teacher will say that's not the beginning and end of it. There has to be a deeper conceptual understanding."
But the Department for Education said the test would last a maximum of five minutes and would allow teachers to monitor a child's progress.
Schools can take part in the multiplication check voluntarily in June 2019 and it will be compulsory from 2020.
School standards minister Nick Gibb said: "Just as the phonics screening check helps children who are learning to read, the multiplication tables check will help teachers identify those pupils who require extra support.
"This will ensure that all pupils leave primary school knowing their times tables off by heart and able to start secondary school with a secure grasp of the fundamental mathematics they need to fulfil their potential."