Airlines get tough after surge in requests for 'support pets'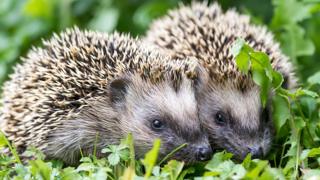 If you were planning to bring a hedgehog on to a flight as a form of emotional support, you might have to think again.
Hedgehogs have been included on a banned list - as airlines get tougher over soaring demands from anxious passengers wanting to travel with "emotional support animals".
United Airlines say requests have risen by 75% to 76,000 in a year.
The airline recently had to turn down a request to travel with a peacock.
But a spokeswoman for the airline says that even before turning away the peacock at Newark airport in the US, there had been recognition that the rules needed to be tightened.
This was because of a "significant increase in onboard incidents involving these animals", she added.
United said that last year there had been an increase of more than 30,000 passengers wanting to travel with emotional support pets.
Banned animals
From next month, there will be tougher rules on animals carried by passengers to provide reassurance or as part of therapy - although this will not affect animals such as guide dogs for the blind.
As well as 48 hours' notice and a letter from a mental health professional, passengers will now have to show proof that their animal has been "trained to behave properly in a public setting".
United will also keep a list of banned animals, including hedgehogs, ferrets, insects, rodents, snakes, spiders, reptiles and "non-household birds" under review.
From next month, Delta will also be stepping up efforts to "protect" its passengers, after an 84% increase in on-board animal "incidents".
A statement from the airline says this is because of "serious safety risks involving untrained animals in flight".
The airline says it will continue to carry about 250,000 guide dogs or other service animals each year.
But Delta has faced requests to carry "comfort turkeys", possums and snakes. And it says staff have faced biting, growling and barking animals, as well as urination and defecation.
Virgin Atlantic says that it only allows dogs to be carried as emotional support pets.
British Airways, meanwhile, says that it has had no increase in requests - because it doesn't allow passengers to bring any emotional support animals on board.