Justine Greening calls for return of student grants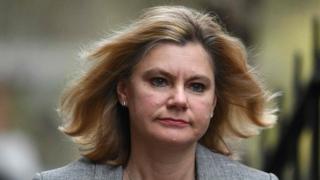 Former education secretary Justine Greening says maintenance grants for poorer students in England should be reinstated, after being scrapped by the government last year.
Ms Greening, removed in the cabinet reshuffle, also raised concerns about the level of interest on student debts.
She said that any student finance system needed to be "progressive".
Prime Minister Theresa May has announced a major review of tuition fees and university funding.
But, Ms Greening, speaking on BBC Radio 4's Today programme, said she was against the idea of different levels of fees for different courses, because it could push poorer students into cheaper, less prestigious degrees.
Her successor as education secretary, Damian Hinds, is expected to launch a review of student finance in England.
Interest charges
There been claims that Ms Greening had been reluctant to have a review - but she said that she had been wary of anything that became an excuse to kick changes "into the long grass".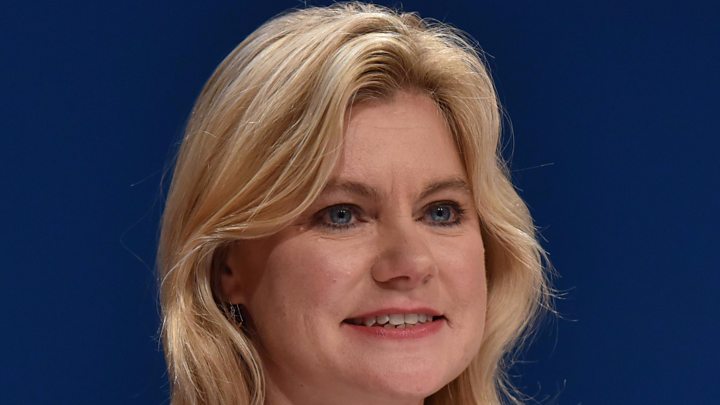 Ms Greening said students were worried about the level of interest charges - currently 6.1% - and that the loss of maintenance grants put an unfair burden on the poorest students.
These grants were abolished from 2016-17 and replaced by loans, which have to be repaid with interest.
Ms Greening said that it was "wrong" that as a result of this, "young people from more disadvantaged, poorer backgrounds are coming out with more debt than their better-off peers".
In terms of the tuition fees system, she argued in favour of a "time-limited graduate contribution" with the money being ring-fenced for higher education.
The forthcoming review of tuition fees will have to consider issues such as whether fees should be reduced or lowered, the interest charges on loans, cross-subsidies between subjects and the availability of support for poorer students.
The Department for Education says that replacing maintenance grants with loans has given poorer students more "cash-in-hand support".
A DFE spokeswoman says that the current system provides "sustainable funding" for universities, maintains access for students and supports repayment arrangements which are "fair to both graduates and taxpayers".
Labour has campaigned for the scrapping of tuition fees and the restoration of maintenance grants.
The shadow education secretary Angela Rayner said: "Justine Greening is absolutely right that her own party's decision to abolish maintenance grants was wrong and that it is the most disadvantaged families and students who have suffered."
She said that without any timetable for the review, students would still face "huge fees" to go to university.