Shoreline lessons - how beach trips boost learning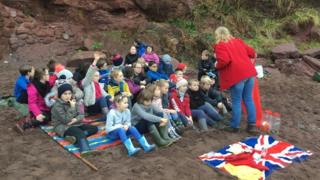 At Ness beach in Shaldon, Devon, a class of pupils from the local primary school are building shelters.
"I'm pretty sure," says eight-year-old Adam, tapping a tarpaulin roof with his spade, "that if we got stranded on an island overnight, we wouldn't have a problem surviving - although I think I'd like an axe."
His face is peppered with sand and the dank, snivelling sky has left his sweatshirt decidedly damp and clammy.
"This is just the best day ever," he yells as he wheels round and dashes off to look at the razor clam shells that his classmate Mabel has just put in the bucket.
Welcome to Beach School on Ness beach near Teignmouth with Shaldon Primary's Year 4.
Willing learners
You won't find any desks, blackboards or iPads here, but you will find a class of engaged, animated and (albeit rather dirty), willing learners.
For the past five years, Beach Schools South West has been travelling all over Devon to enable children of all backgrounds to experience outdoor learning.
The idea is based on that of the well-established Forest Schools, where children regularly visit woods and natural spaces to learn social, technical and team-building skills and to help boost their self-confidence and sense of well-being.
"Beach Schools South West unfortunately isn't a daily school," explains founder and director Tess Stuber.
"But we are a mobile beach school so we can go take our programme to any beach.
"Our ethos is about children leading themselves and not being taught or given direct instruction - and they learn without realising it."
Harry and Will are crouched on the sand pondering the best way to connect their den to a freshwater supply.
At the other end of the beach, the girls have made a washing line to hang up their jackets to dry.
They offer me a seashell full of "survival sushi" they have made from seaweed.
Another child and her friend are debating whether to build an extension.
"I feel like I'm in Swallows and Amazons!" cries Najeen, as Ali Murray, the Beach Schools team leader, comes to inspect the shelter they've built.
"You can teach any subject on the beach," says Ms Murray, as the children watch her light a fire.
"We are learning today about sea safety, about pollution in our oceans, about building shelters, the environment.
"We speak to classroom teachers about what the children are learning in school and we just adapt. The beach is a very versatile place to take the curriculum."
She counts out marshmallows to toast and asks the children to work out how many packets she will need to open if there are 17 marshmallows in each packet.
Everyone starts counting.
Year Four's class teacher, Susie Cairns, grins.
"The beach just brings learning alive," she says.
"We've been doing lots in the classroom about plastic pollution but on the beach they can actually see the problem for themselves and the damage it's doing."
We are interrupted by Ben, who races over to show us the plastic bottle and bag he's just found on his litter run.
He's extremely worried about the harm it might do if ingested by sea animals.
"It's shocking," he tells us. "It's happening all over the world."
Ms Cairns says the children will also be making poems based on their beach finds, and after their full-on sensory experience, she will introduce them to the concepts of metaphors and onomatopoeia.
Beach Schools South West is a community interest company and gets its funding from charitable trusts and foundations, the lottery and through partnerships with local businesses such as South West Water.
Many of the schools that Beach Schools South West visit are in underprivileged areas.
"We work in and around Plymouth a lot," explains Ms Stuber.
"Plymouth is Britain's so-called Ocean City, yet we are staggered by the amount of primary school children, sometimes 80%, who have never been to the beach, stood on the sand, heard the sea or touched it
"It's so important to offer these children outdoor learning experiences."
"Who wants to see my prickly clam?" shouts Ms Murray and the children immediately crowd around her.
In their haste to see the exhibit, one boy bangs into another and he stops to apologise.
"I'm seeing and hearing things I don't see in the classroom," says their teacher.
"The conversations, the problem solving, friendships and children really working in teams."
Ms Murray now runs at least 50 beach school sessions a year.
She admits the reception classes can be tiring, but she's never yet had a problem with discipline on the beach, even with children who are known to have behavioural problems.
"The toasted marshmallows help of course," she laughs as she hands me a pink one.
After four hours under the drizzle, and a spirited rendition of the school song, it's time to go back to the classroom.
On the trudge back through nearby Smugglers Tunnel I ask a small girl who has a hole in her wellington boots and whose anorak pockets are splitting with seashells, how she's feeling.
"Ecstatic!" she exclaims.
Hear Emma Jane Kirby's report live on Radio 4's World at One and afterwards on iPlayer Radio.