University strikes 'much more likely' as talks deadlocked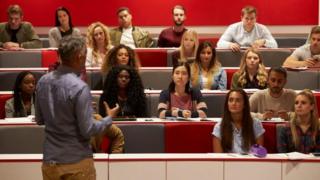 Changes to lecturers' pensions will go ahead despite staff at 61 universities backing strike action.
The negotiating committee of the Universities Superannuation Scheme voted on Tuesday to press ahead with plans academics fear could cost them an average of £200,000 each.
The employers' group Universities UK called the move "a necessary step".
But the University and College Union said it meant strike action now looked like a reality.
On Monday, the University and College Union announced 14 days of strikes over the plans, starting in February.
And on Tuesday the joint negotiating committee of the pension scheme voted to press on with plans to change it from a defined benefit scheme, which gives a guaranteed income in retirement, to a defined contribution scheme, where pensions are subject to changes in the stock market.
According to union, the committee, comprised of five union delegates and five from Universities UK, was deadlocked, but the chairman had used a casting vote to back the plans.
UCU general secretary Sally Hunt said: "Staff will feel utterly betrayed by their leaders.
"We are disappointed at how talks ended today, particularly after UUK suggested yesterday that it wanted more talks to avoid strikes.
"Universities must be on notice that unless there are dramatic changes in their negotiators' position then strike action will be arriving on campus next month."
She said that in the light of recent concern over excessive pay and perks at the top, university leaders should "recognise how angry their staff are and... work with us to avoid widespread disruption".
A spokeswoman for Universities UK said the decision had been "made in the best interests of university staff, to put USS on a sustainable footing for the long-term".
"The scheme will continue to offer attractive pensions, through market-leading defined contribution benefits," she said.
"If industrial action takes place, it could cause disruption for students at some universities."
Staff at 68 universities are members of the scheme, which last year was reported to have a £17.5bn deficit - though the UCU says this figure is too pessimistic and artificially undervalues the scheme.
Of these universities, 61 voted overwhelmingly in favour of action, with 88% in favour of strikes and 93% in favour of action short of a strike, with an overall turnout of 58%.
Oxford, Cambridge, Imperial College London, UCL, Edinburgh, Glasgow, Manchester and York are among those affected.
At seven institutions the turnout was below the 50% required by law for a ballot to be valid.
UCU says it will re-ballot staff at these seven universities, hoping for a better turnout.
Staff at institutions that became universities after 1992 are members of a separate pension scheme unaffected by the proposed changes.