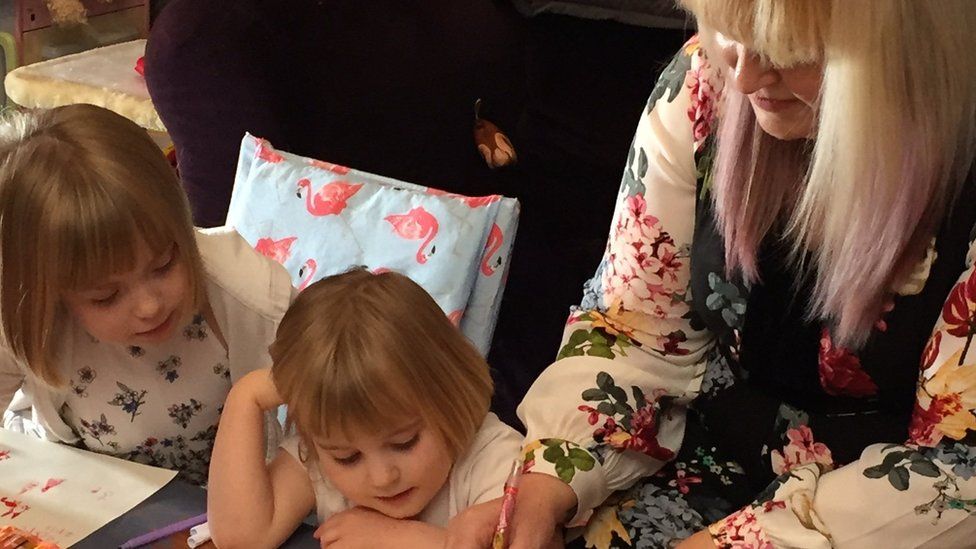 A bereaved mother is calling for schools to make extra checks on pupils who do not turn up.
Helen Daykin's little girls spent almost 24 hours with the body of their father after his sudden death.
She says: "There's no reason why this couldn't happen again. How the children didn't hurt themselves I've no idea."
The government may ask schools in England to make extra checks, including keeping an extra contact number to call when children don't turn up.
Helen Daykin can only now bring herself to speak about the day her husband, Chris, died unexpectedly, just over a year ago.
She often travelled away for work while he looked after their two small daughters, Pearl and Iris.
Sometimes it was to the other side of the world, that week it was just to London from their home, in Halifax.
When she rang in the morning she thought he was busy with the school run, then later that he might have lost his phone as there was no answer.
At teatime, her mother drove over but couldn't open the door because Chris had left the keys in on the other side.
The milk was outside, the windows dark, so the police were called to break down the door.
"I got on the train, and at 20:00 I got a call to say my husband had died but the children were OK," Helen says.
Pearl, who was four years old, had started school just a few weeks earlier. Iris was two.
Chris had been a devoted father, he took photos of his girls almost every day.
Helen says they were found by the police, in bed with his dead body.
Chris had died suddenly of heart failure the night before.
Pearl and Iris couldn't "wake" him during the day, but the girls found indigestion tablets and put them in his mouth to "make him better".
Helen thinks Pearl understood on some level that Chris had died.
"They spent the whole day upstairs, they didn't come down at all . They were hungry. They played with all my shoes and makeup, but they didn't venture further in the house."
Helen says the trauma has stayed with the girls.
"Pearl can tell me every single detail and relives it often. I can't leave the room without her shouting for me or wanting to be with me."
When a child doesn't attend, a school will normally call their contact number to check whether they are ill.
Pearl's school had tried Chris's number, but didn't ring Helen.
Helen wants all schools to overhaul how they check up on children who don't arrive at school.
She says second and third contact numbers and home visits should be part of their plans.
Helen's campaign for better awareness is being backed by the Good Grief Trust charity, which has provided support through her bereavement.
Its founder, Linda Magistris, said: "A parent dies in this country every 22 minutes, and that could be one of those parents that are by themselves, nobody knows they're by themselves with the children."
Helen says her girls may need long-term counselling, but is deeply grateful they came to no harm.
It could have been worse.
In October 2016 Esther had a fatal epileptic fit, and Chadrack who had special needs, spent two weeks in their flat unable to get help.
The coroner's report describes how school staff called his mother's number several times.
They also tried to visit twice, but couldn't get into the block of flats.
The coroner called for the government to make changes and set out the policy subsequently put in place at Chadrack's school:
Three contact numbers are kept for every child
If a pupil fails to attend with no explanation, someone is immediately sent to the family home
If there is no response, the police are contacted
These policies are up to individual schools to review, but the government is now asking if they should be obliged to keep an extra contact number to check on children.
Jim Gamble wants the government to go further.
As chair of the independent safeguarding board in Hackney he commissioned a report after Chadrack's death which has yet to be published.
He says the government needs to "breathe life" into policies to put child safety first, and prevent another tragedy if a loving parent like Esther dies unexpectedly.
"Her child starved to death feet from a fridge where there was plenty of food. A child that was loved."
Jim Gamble says they'll be sending their report to ministers even though it might not be something that happens every year.
" What we want to do is put in place measures that will stop anyone being lost in plain sight again. "