Toby Young's appointment leaves new regulator 'in tatters', says Labour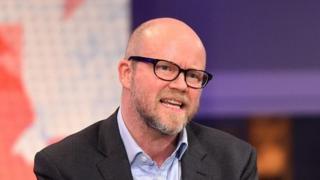 Toby Young's appointment to the board of the new Office for Students has left the university regulator with its "credibility in tatters", says Dawn Butler, Labour's shadow secretary for women and equalities.
It follows accusations that Mr Young had made offensive comments on Twitter.
But Universities Minister Jo Johnson rejected "armchair critics" and said Mr Young had already apologised.
The prime minister had said she was "not impressed" by Mr Young's language.
Ms Butler, challenging the appointment of Mr Young, told the House of Commons she was "flabbergasted" by Mr Young's comments, which she said "makes a mockery" of any commitment to equality.
'Developmental journey'
There has been sustained scrutiny of Mr Young's comments on women, schools' support for the disabled and working class students at university.
Labour MPs have argued that they make him unsuitable to sit on a body representing the interests of students - and that the appointment should be reversed.
Mr Johnson told MPs the new regulator's comments were "obnoxious and repellent", but that Mr Young had been on a "developmental journey" and had given undertakings not to repeat such comments.
The universities minister said he should be judged on his achievements in setting up schools and "not foolish and obnoxious tweets from the distant past".
His "good work" in education made him a worthy appointment for the new body, said Mr Johnson.
This included commendations from the Fulbright Commission for Mr Young's work as a commissioner, said the universities minister.
But the Conservative chairman of the Education Select Committee, Robert Halfon, called for a re-think on Mr Young's appointment, highlighting his writing about eugenics.
Mr Halfon said this was "incredibly dark and very dangerous stuff".
Mr Young has rejected this as a misunderstanding, saying he was writing about eugenics to warn how technology could compound inequality.
'Deliberately misinterpreted'
Labour's former shadow education secretary, Lucy Powell, said the appointment was evidence of an indefensible "chumocracy".
But Mr Young, writing last week, said some of his comments had been "sophomoric and silly", but he had been "deliberately misinterpreted to try and paint me as a caricature of a heartless Tory toff".
"For the record, I'm a supporter of women's rights and LGBT rights," wrote Mr Young.
"I'm also a defender of teaching children with disabilities in mainstream schools. I have an older brother with learning disabilities and I'm a patron of the residential care home he's lived in for 20 years."
He said that much of the criticism had been politically motivated.
"But I am a Tory, obviously, and for some people that alone is enough to disqualify me from serving on the OfS's board," he wrote.