All you need to know about secondary school league tables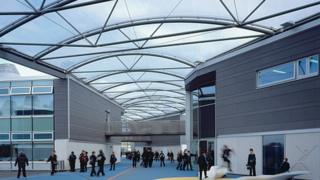 As secondary school league tables for England are published, we take you through what to look out for this year.
How are schools being measured?
Secondary schools in England are now ranked by how they perform in two areas - Attainment 8 and Progress 8.
This is the second year that these measures have been used.
Attainment and Progress 8 replace the previous system, where schools were ranked according to what proportion of pupils got five GCSEs at grades A*-C, including English and maths.
What is Progress 8?
Progress 8 shows how well a school is serving its pupils by looking at where these young people started and where they ended up.
It looks at attainment in eight GCSEs (or equivalent) subjects from grade A*-G (9-1 in maths and English) for each pupil.
These results are then compared with the results of other pupils who came into secondary schools nationally with the same attainment levels.
A figure for those results across the school year group is then calculated. This result is then set within confidence levels, which set out how accurate the government believes the Progress 8 score to be.
Progress 8 scores generally fall somewhere between minus-1 and 1.
The number is then placed into one of five bands:
well above average
above average
average
below average
well below average
It is these bandings which will be of most use to parents.
What is Attainment 8?
Attainment 8 is about the raw results across individual pupils' best eight subjects.
But they are not just any old subjects - English and maths are compulsory and worth double points.
Then there is the choice of three subjects from the English Baccalaureate (core academic subjects), and any other three from the DfE's approved list of qualifications - including vocational qualifications.
The results are recorded only at the school level and an average score per pupil is calculated and published.
The maximum number of points per school is 87 points per pupil. The national average across all state secondary school is 44.2 points this year.
Why eight subjects?
The short answer is that it is considered fairer to see a pupil's best achievement across a broad spectrum of subjects.
Teachers and head teachers had complained that the five good GCSEs measure, used until the academic year 2014-15, was too narrow.
They also argued that the English Baccalaureate measure was too prescriptive and relevant only for the more academic students.
The aim of Progress and Attainment 8 is to give a broader picture of how schools are bringing their pupils on.
Is there anything new to watch out for this year?
Yes. This year the data includes new-style GCSEs in maths and English, which are now graded 9-1.
All other subjects are still graded under the old system of A*-G and so are included in this year's league tables on that basis.
This mix of numerically and alphabetically graded GCSEs means there is a change to how the Attainment 8 score is calculated.
What happens elsewhere in the UK?
Data on how well Scottish pupils do in reading, writing and numeracy is published as part of its Curriculum for Excellence.
The Welsh Assembly publishes school performance information in the form of a colour code. Schools are rated green, yellow, amber or red, according to how well they are performing.
School league tables are not published in Northern Ireland.