How universities replied to that Brexit letter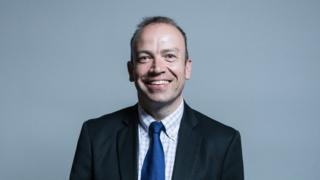 There were big differences in the responses of universities to the controversial letter asking for details of Brexit teaching sent to them in October by the government whip, Chris Heaton-Harris.
While some denounced it as "sinister" and having the "whiff of McCarthyism", others were very happy to send the information Mr Heaton-Harris was seeking, and invited him to be a guest speaker or to get involved in their initiatives.
When the letter was publicised it was denounced as political interference in academic freedom by numerous academics and politicians. Lord Patten, the chancellor of Oxford University, described it as "offensive and idiotic Leninism".
But BBC research now reveals there was a much more mixed response in reality, with university reactions ranging from anger to enthusiasm. This is disclosed by a BBC freedom of information request, asking UK universities for a copy of their response to the letter.
Mr Heaton-Harris, a staunch Eurosceptic and the third most senior government whip, wrote to most university vice-chancellors in early October asking for "the names of professors at your establishment who are involved in the teaching of European affairs, with particular reference to Brexit". He also requested "a copy of the syllabus and links to the online lectures which relate to this area".
Of 59 universities that responded to Mr Heaton-Harris's letter, 28 were cooperative, providing Mr Heaton-Harris with most or all of what he asked for.
Many universities sent online links to course modules and lists of the relevant academic staff who taught topics which could relate to Brexit.
Professor Karen Cox at the University of Kent went further. After supplying the MP with online links to staff lists and course outlines, she asked for a favour in return - for Mr Heaton-Harris to be a guest speaker for a new Masters level module on European Affairs.
The Dean for the Faculty of Social Sciences and Humanities at the University of Westminster, Andrew Linn, similarly sent links to staff research expertise and course content, and also extended an invitation for the MP to come to a debate hosted by the university on Brexit.
A colleague of the Dean at the university asked in a separate email "If you have ideas/initiatives where you may want to involve us and students, please keep in touch... we also organise student trips to the Parliament and it would be good for them to meet and interact with you in the future."
Other institutions who gave full responses about their work included the University of Sheffield, which provided a list of relevant staff and descriptions of the modules available that related to Brexit.
The President of City University, Sir Paul Curran, similarly supplied the names and contact details of two senior academics who he said would "both be pleased to be contacted" by the MP's office for further information.
In contrast 17 institutions entirely or mostly refused to provide the information asked for.
The angriest responses came from the Vice-Chancellor of Worcester University, David Green - who first publicised the letter - and Bill Rammell from the University of Bedfordshire, a former Labour MP.
David Green wrote: "I look forward to receiving your letter of apology for sending me this sinister letter in which you ask me to supply the 'names of professors'. I will do no such thing. If you are committed to freedom as you now claim, you will write to me by return apologising and withdrawing your damaging letter in its entirety."
Bill Rammell said he shared the "deep concerns" expressed about the intentions of the request, adding: "I am not willing to share with you the names of academics teaching on the subject area of European affairs and/or Brexit, as your letter does not make it clear your purposes in asking, and I am concerned that there is a whiff of McCarthyism in the request and a desire to foment public opposition to perfectly legitimate and valuable academic activity."
Several other universities gave links to basic course information but cited a mixture of academic freedom, commercial interest or staff safety as reasons to refuse most of the information sought by Mr Heaton-Harris.
The universities of Royal Holloway, Northampton and Sheffield Hallam raised concerns that releasing names of staff could lead to "harassment", "threatening their safety" or "unwarranted repercussions".
Another 26 institutions said they did not respond at all to the Tory MP's request. This could be a breach of freedom of information law, since universities are covered by FOI and the letter was clearly a request for information.
Several universities told us that they decided to treat the letter as personal correspondence to the Vice-Chancellor and not as an FOI request. These included the universities of the West of Scotland, Brunel, Nottingham and Lincoln.
The University of Surrey told us "We did not treat this request as an FOI, which in hindsight was perhaps wrong. We apologise for any misunderstanding, as we endeavour to respond to all requests under the Act in a full and timely way."
Chris Heaton-Harris was approached for a response to the BBC's findings but declined to comment. At the time of the initial fuss, universities minister Jo Johnson told the BBC's Today Programme that Mr Heaton-Harris was conducting research for a book.
Fourteen universities replied to tell Mr Heaton-Harris they had no information to supply, as they did not teach relevant courses.
Twenty-six universities told us that they did not actually receive the letter. They include Cambridge, Leeds, Birmingham, Plymouth, Exeter, UCL and Queen Mary.
Fifteen of the 135 universities approached by the BBC have not responded to our FOI request.