Student vote 'swings further to Labour'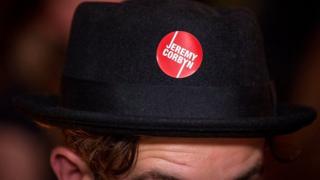 The student vote is moving even more to Labour than at the general election, according to research for the Higher Education Policy Institute (Hepi).
With the promise of scrapping tuition fees, there were big swings to Labour in university seats at this year's general election.
The latest figures in a series tracking student voting intentions show Labour reaching a new high of 68%.
But Hepi director Nick Hillman said the lead could still prove "flaky".
The polling survey, carried out by YouthSight, shows how Labour's support among students has more than trebled since 2010 - and has shifted considerably since being surveyed ahead of the 2017 general election, when 55% of students were backing Labour.
Tuition fee review
The poll, on "who students would vote for in an election tomorrow", puts Labour on 68%, the Conservatives on 15% and the Liberal Democrats on 7% - Labour's best position in a series of student surveys going back a decade.
There have been suggestions of a last-minute student surge in the last election, as Jeremy Corbyn's Labour targeted younger voters with promises such as getting rid of the £9,250 tuition fees in England.
In Canterbury, and Portsmouth South, student campaigners were seen as helping to win seats with swings of over 20%.
This latest survey on voting intentions shows Labour strengthening its position among students even further.
In response, Prime Minister Theresa May has since promised a review of tuition fees and announced a freeze on increasing fees and a higher threshold for loan repayments.
But the Higher Education Policy Institute analysis suggests that Labour's position might be more fragile than it first appears.
Mr Hillman, who once worked as an adviser to former Conservative universities minister Lord Willetts, says Labour's popularity among students seems to be built on an assumption that the party is opposed to Brexit.
The research says that more than 40% of Labour's student supporters would change their minds if the party was seen to have "overtly backed Brexit".
According to the survey, 62% of students want a second referendum on EU withdrawal.
The analysis warns that no party can take the student vote for granted, because it can shift rapidly.
In the run-up to the 2010 general election, the Liberal Democrats, who had pledged to scrap tuition fees, had risen to 49% among student voters.
Following the abandoning of the promise, this vote crashed and has since struggled to get above 10%.
Ben Marks of YouthSight said the pro-Remain student vote seemed to be supporting Labour "more on hope and projection than understanding and reality".
Mr Hillman said Labour's lead among students "could turn out to be as flaky as past student support for the Liberal Democrats".
"It all depends on Labour's position in relation to Brexit as nearly all students oppose the UK leaving the EU," he said.
"While two-thirds of students back Labour, over half of them think Labour is a pro-Remain party. If their perceptions changed, then a high proportion would be less likely to support the party or to abstain from politics."