Budget: Heads say extra maths cash is 'drop in ocean'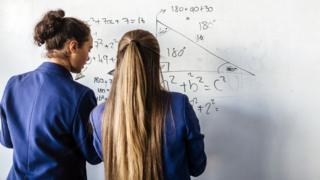 Head teachers' leaders are "extremely disappointed" by what they say is the Budget's failure to address "urgent" school funding shortages in England.
Geoff Barton, leader of the ASCL heads' union, said extra cash for maths was a "drop in the ocean" and schools would still face real-terms cuts.
Maths A-level will be encouraged, with £600 for schools for each pupil taking the subject above current numbers.
The Chancellor said maths skills were needed for "cutting edge" jobs.
Labour leader Jeremy Corbyn criticised the lack of movement on student debt and warned that schools in England would be "5% worse off by 2019".
In his Budget speech, Philip Hammond announced a £117m boost for maths, alongside plans to train 12,000 computer teachers and more support for adult re-training.
Schools' funding 'disappointment'
But school leaders were angered that there was no extra cash for core school spending.
It would now be "impossible for many schools to avoid making redundancies", said Paul Whiteman, leader of the National Association of Head Teachers.
West Sussex head teacher and funding campaigner, Jules White, said that representatives of 5,000 schools had visited Downing Street last week - calling for the return of £1.7bn which they say had been "taken from school budgets".
But Mr White said "our reasonable request fell on deaf ears".
The lack of movement on school funding would leave "parents and teachers deeply disappointed," said the National Education Union.
Jo Yurky, a parent campaigner over school funding, said the spending plans were "out of touch with the concerns of parents" and that the maths announcement was "tinkering around the edges with gimmicky ideas".
But supporting an increased uptake of maths was welcomed by Professor Frank Kelly, chair of the Royal Society's advisory committee on mathematics education.
"Mathematics is essential for understanding the modern world and provides the foundations for economic prosperity," said Prof Kelly.
'Cutting edge'
The Chancellor's Budget statement announced financial incentives to boost maths after the age of 16, after concerns that too many drop the subject after GCSEs.
"Knowledge of maths is key to the hi-tech, cutting-edge jobs in our digital economy," said Mr Hammond.
The Chancellor said he wanted "highly talented young mathematicians" to be able to "release their potential wherever they live and whatever their background".
From 2019, schools will receive an extra £600 for every additional student taking maths or further maths A-level or core maths above current levels.
But heads' leader, Geoff Barton, warned that the funding offer for maths could create a "perverse incentive to enter students on to maths courses which might not necessarily be the best option for them".
He also raised concerns that it would be "unfair" that schools that had already increased their number of maths A-levels students would miss out on extra funding.
Mr Hammond also invited proposals for new maths specialist schools.
There will be £42m over three years to provide extra training to "improve the quality of teaching" in a pilot project in some under-performing schools in England.
In the selected schools, each teacher will have access to £1,000 worth of training.
Schools have struggled to recruit computer science teachers - and there will £84m over four years to train 12,000 more staff qualified to teach the subject, with the support of a new National Centre for Computing.
This was welcomed by Cindy Rose, the UK chief executive of Microsoft, who said: "There is an urgent need for the UK to tackle its digital skills gap."
The Chancellor announced a national re-training scheme for adults, in partnership with the CBI and the TUC, with an initial £30m to teach digital skills.
Further education colleges were promised £20m to prepare for the so-called "T-level" qualifications, which will be for vocational subjects.
Angela Rayner, Labour's shadow education secretary, said: "The schemes announced today are a tiny fraction of the money he has cut from school budgets since 2015 and despite his spin, schools will be worse off by 2020."
Kevin Courtney, joint leader of the National Education Union, said: "The Budget, with no significant new money for education, shows that the Government has chosen to ignore the anger of parents and the clear evidence of the problems being created by real terms cuts to education."
The UCU lecturers' union said the "glaring omission" from the Chancellor's speech was any reference to the promised review of university funding or support for students.