Why can't a university claim to be in the top 1%?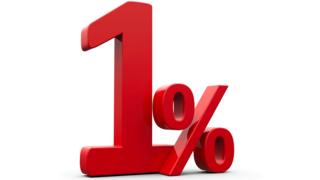 There will be hundreds of thousands of families at the moment trying to work out university applications for their teenagers - hunched over laptops on kitchen tables trying to weigh up the ambitious promises of different universities.
Every university seems to be in the top 10, top 1%, the university of the year or "world leading", they all seem to be the best pathway to a great job and no-one in the pictures is doing anything except smiling.
The competition for students - and their fees - is now so intense that the venerable Higher Education Policy Institute says that there is a "touch of the Wild West about it".
For the first time, the Advertising Standards Authority and Committees of Advertising Practice have issued guidelines to universities to stop them making misleading claims.
And they've already stepped in to say six universities need to change their marketing claims.
The watchdog is suggesting that universities are selectively quoting from rankings in the way that a theatre might sell a play with a couple of flattering lines from a lukewarm review.
They say comparisons and claims need to be backed by evidence.
How everyone can be top
But what's the basis of such claims to excellence? And how would anyone looking for places find out who is really in the top 1%?
Most of these claims come from university rankings and league tables.
These could be the Times Higher Education World University Rankings, the QS World University Rankings, the Academic Ranking of World Universities or from newspapers such as the Sunday Times and the Guardian.
But that is only scratching the surface. There are dozens and dozens of league tables, many of which have separate sub-rankings based on individual subjects, departments, types of university or regional breakdowns.
All of these will have their own methodology and priorities - and they will all come up with different ratings.
As a former university head of communications said on Wednesday, everyone is going to be in the top 10 or top 25 for something.
Unlike school league tables, they tend not to be about exam results or the quality of students' work, but will be based on criteria such as "reputation", research citations, research funding and staff ratios.
Universities decide their own degree grades - the University of Surrey awarded a first-class degree to 41% of students last year - so league tables are not about what students achieve or academic quality.
The Organisation for Economic Co-operation and Development (OECD), which runs the Pisa tests for schools, tried to introduce tests objectively measuring the ability of university students in different countries.
But universities, particularly in the UK, were not enthusiastic, and that has been quietly rolled into the long grass.
Competition for students
The claim to be in the top 1% of world universities has been widely used by UK universities.
In the case of the University of Leicester, it derives from being ranked 238th in the the QS World University Rankings and 237th in the CWUR World University Rankings.
But the advertising watchdog has argued that it's not a reliable statistic.
These rankings have only about 1,000 universities, so Leicester wouldn't be in the top fifth.
The 1% claim is based on there being possibly 26,000 universities in the world - but the advertising watchdog says there are other claims of 27,700 universities and without a substantiated total it's not possible to make such specific claims.
Universities until recently had loftily dismissed these league tables as subjective and unscientific.
But times have changed. There is huge competition to recruit students and that means marketing in a way that would once have seemed beyond the academic pale.
The pursuit of lucrative overseas students adds another incentive to look different and higher achieving than other - possibly not that dissimilar - institutions.
So universities have been turning to rankings to back up claims to be world beaters.
But the advertising watchdog is saying that it will not accept any cheating in class.