Six universities told to change advertising claims
By Sean Coughlan
BBC News education and family correspondent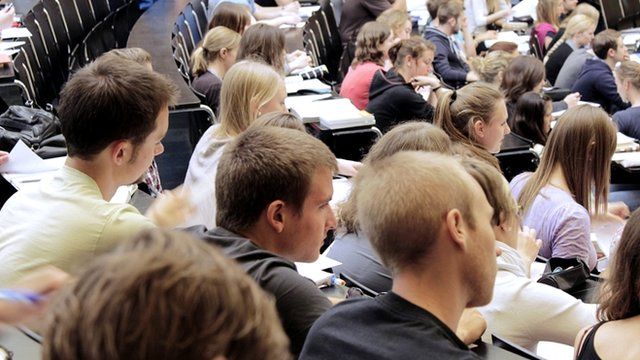 The advertising watchdog has told six UK universities to take down marketing claims that could be misleading.
Leicester, East Anglia, Strathclyde, Falmouth, Teesside and the University of West London have all had complaints upheld against them.
The Advertising Standards Authority is warning against exaggerated claims made to attract students.
Chief executive Guy Parker says students need "good evidence" when making such a big financial commitment.
"Misleading would-be students is not only unfair, it can also lead them to make choices that aren't right for them," said Mr Parker.
For the first time universities are going to be issued with guidance on avoiding misleading information.
Nick Hillman, director of the Higher Education Policy Institute, said that intensifying competition between universities now has a "touch of the Wild West about it".
"Universities should be careful about their claims, which need to be robust, truthful and useful.
"But it is a good thing that they are telling potential applicants more than they used to in the past."
Hundreds of thousands of young people are currently deciding their options for applications for courses next autumn.
The Advertising Standards Authority says universities trying to recruit students have to be able to objectively prove the claims they are making about their high status.
The watchdog wants to stop unjustified claims and offer a clearer explanation of achievement in rankings and league tables.
Complaints were upheld against six universities:
Falmouth University has been told to stop describing itself as "the UK's number one arts university" or "the UK's number one creative university".
Teesside University had a complaint upheld for saying it was the "Top university in England for long-term graduate prospects".
University of East Anglia has been told not to use the claim "Top 5 for student satisfaction".
University of Leicester must stop claiming to be "a top 1% world university".
University of Strathclyde has been told to change the claim "We're ranked No. 1 in the UK" for physics.
University of West London must stop claiming to be "London's top modern university - and one of the top 10 in the UK".
Many of the challenges from the watchdog have been about how information from rankings or comparison tables have been presented.
"If you're making claims about your national or global ranking, student satisfaction or graduate prospects, make sure you practise what you teach... by backing up your claims with good evidence," said the head of the watchdog, Mr Parker.
The universities involved have argued that they have put forward accurate information - but there could be greater clarification.
'Everyone in the top 10 for something'
"We don't set out to mislead or confuse prospective students," said a statement from the University of Leicester.
The university says its claim to be in the top 1% in the world is based on figures from several international rankings.
"While we disagree with the Advertising Standards Authority on their assessment methodology, we will abide by their ruling," said the University of Leicester.
Teesside also defended its claims over graduate prospects.
"We strongly believe that the marketing message was accurate, but we respect the decision of the Advertising Standards Authority ," said a spokesman for Teesside University.
The University of West London says it has fully complied with the ruling: "The advertising that was the subject of investigation has been removed and will not appear in our future marketing materials."
Charles Heymann, a higher education communications adviser, had been head of communications at the University of Reading when it was told to stop using the claim to be in the top 1% of world universities.
"It's a wake-up call to the whole sector. I suspect it pretty much kills off "top 1%" as a strapline and sends a clear message that universities need to be whiter than white in their advertising."
Mr Heymann said that rankings could "exaggerate very marginal differences between individual universities.
"It's tempting for marketing teams to push the boundaries as far as they can go in emphasising them. At some point, most universities will be in the top 10 or 25 for something."
A spokesman for Universities UK said: "With a proliferation of university rankings, data and awards now in existence, there is a need for clearer guidelines for universities in how they use this in a way which is clearly understood by students."