Scrap student loan interest and extend payback time - review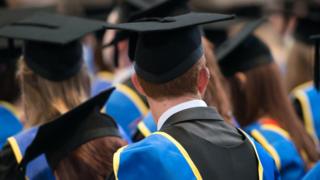 Scrapping interest on student loans and extending the time limit on paying it back could help to avoid a future debt crisis, a centre-right think tank says.
The UK 2020 report said the measures would "bring down costs" for students and graduates.
Changing payback time limits from 30 to 50 years could also save billions of pounds of taxpayers' money, it said.
Ministers are reviewing the student finance system. They said sustainable university funding was a priority.
The PM recently abandoned an increase in tuition fees due next year, announcing a review of the whole student finance system in England.
Those graduating from university in summer 2017 left with an average debt of £50,000, according to estimates from the Institute for Fiscal Studies.
'Bring down costs'
In a report submitted as part of the review, UK 2020 is proposing that interest on all student loans - typically 6% a year - should be scrapped.
This would reduce unpaid student debt by an average of 10%, it said.
Combining that with pushing back the current 30-year limit on debt repayment to retirement age would, the report says, increase the number of loans recovered from 25% at present to 80%, benefiting both graduates and taxpayers.
---
What would I repay?
If a graduate left university with a student debt of £50,000 and earned around £30,000, they would currently repay £67 a month.
After 30 years, £75,000 would have been paid but interest rates mean the loan would still not have been repaid in full.
Under the proposals, a student earning the same would pay £29 per month towards the debt.
And after 50 years, the full £50,000 would have been repaid.
Source: UK 2020
---
The report, co-authored by businessman and Leave.EU co-funder Richard Tice, says the current system threatens a student loan debt crisis in the mid-2020s.
The proposal argues that loans repayable over 40-50 years would spare "hundreds of billions of pounds" of taxpayers money being written off.
In the report's foreword, former education minister and the architect of tuition fees, Lord Adonis, welcomed the "innovative contribution" to ideas on student funding.
He said: "For too long, universities have had free rein to grab as much as they can from students, graduates and the taxpayer - with precious little regard for the value they provide."
A previous UK 2020 report, issued last month, accused universities of running a "cartel" and failing to offer enough two-year degrees that could cut graduate debt.
A government spokesperson said: "Sustainable university funding and student finance are a priority in delivering this government's objectives on higher education.
"As the PM made clear in her conference speech earlier this month, we are reviewing the system and will be setting out further steps to ensure it remains fair and effective in due course."