I was an idiot, says excluded boy looking back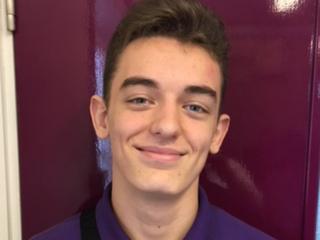 As the number of pupils being permanently excluded from England's schools has risen by a third over three years, Ben, who was expelled at 13, tells his story in his own words.
Warning: Some of them are a little rude.
"I was a little shit back then, when I was younger.
"I was excluded from class every day, I never behaved, I never listened.
"I walked out of my lessons and I never followed instructions.
"Halfway through Year 8, I was excluded from my school permanently.
"That was before I got my diagnoses and my tablets for ADHD.
"The way ADHD affects you is that if you were looking at the board and you heard someone chatting behind you - your attention is taken away immediately.
"It made it impossible for me to focus. Every time I was in my lessons - I kept on talking.
'I would flip out'
"If the teachers wanted me to listen to what they said, they would have to take me outside, sit me down and maintain eye contact all the time.
"It became completely normal for me to get in trouble.
"I felt like that was what was expected of me. I would come to school to get sent home.
"I didn't really see my dad that much. He separated from my mum when I was one.
"So my mum was single at the time when I got excluded.
"When my mum was on her own, everything was fine, but we didn't have much money. We were struggling to get by.
'Off the weed'
"There would be some days when she wouldn't eat - she would just give me the food .
"I was a little shit. I was bad.
"If something didn't go my way, I just flipped out.
"One of the key things for me is that I was able to get off the weed [cannabis]. It was a stressful time and that was really the only release I had.
"Coming here to the Limes [pupil referral unit] and getting my ADHD medication has made me realise that.
"When I look back at the old me I see an idiot.
"Now I am more mature and grown up, and I realise that the world doesn't revolve around me.
"What's next? After my GCSEs, I want to get into the performing arts, into drama school
"It's an absolute dream of mine to get into a Spiderman costume."
The head teacher
"Turning lives around, that's the business we're in," says Emma Bradshaw, head of the Limes College in Sutton, Surrey.
"If this stuff is done right it's life changing. We turn lives around every year," she says
For most children, she explains, a spell in a pupil referral unit means a chance to get their lives back on track and return to mainstream school.
That's providing there are good relations between the PRU and the local schools.
But there will be a small number for whom being in a large school will never work, she explains.
"What we do is we look at what is behind the behaviour.
"Behaviour is a form of communication. It's an indication that there is an unmet learning need," she says.
Change
Trauma is also a significant influence, she says, adding that "90% of pupils have unresolved trauma issues which need to be addressed with interventions and therapy".
The key to success, she says, is having enough resources to tackle the issues pupils may have at this stage and to provide the right things at the right time.
And that can be difficult, while trying to balance a reducing budget.
The Limes works by creating tailor-made timetables around pupils and playing to their strengths.
Hence the quality of the work they achieve is impressive.
Kai, who has severe dyslexia, is very keen on photography.
He worked with some other pupils to create an animation based on the Greek legend of the Minotaur, telling the tale from the monster's point of view.
And the results were staggering.
So does head Ms Bradshaw think the rise in exclusions is a result of schools wanting to "get rid of" challenging pupils?
"No," she says, "if anything I am surprised that some of these children have remained in schools as long as they have.
"You don't find head teachers saying 'I don't really like him I think we should exclude him'."
But if we want to keep more pupils like Ben and Kai in mainstream schools, she says, then we are going to have to change the way schools deal with them.
The Programme
Each day 35 children in England are being told to leave their school permanently, a report for charitable organisation The Difference says.
Citing official figures, it highlights a 35% rise over the past few years in the number of pupils excluded from schools.
It has grown from 4,950 in 2013-14 to 6,668 in 2015-16, according to Department for Education figures.
The Difference also claims children are being pushed out of schools in more informal ways, such as managed moves and by parents being encouraged to "home teach".
It highlights the high cost to society of not providing these children with the support and education they need to get back on track.
The Difference was set up as part of the think tank and charity IPPR to focus on excluded pupils. Founder Kiran Gill says: "By not addressing their challenges when they first appear, we are brewing trouble for later. The majority of today's prison population were excluded when at school."
She wants to create a new route for talented, well-rounded head teachers to get into PRUs, so that youngsters with a range of complex needs can make the most of their talents.
The Department for Education has announced a review to improve exclusions and ensure that best practice is shared across the country.
"The government has also committed to bring forward proposals to ensure that alternative provision is the very best that it can be and gives every child the opportunity to fulfil their potential."