Can you learn English from EastEnders?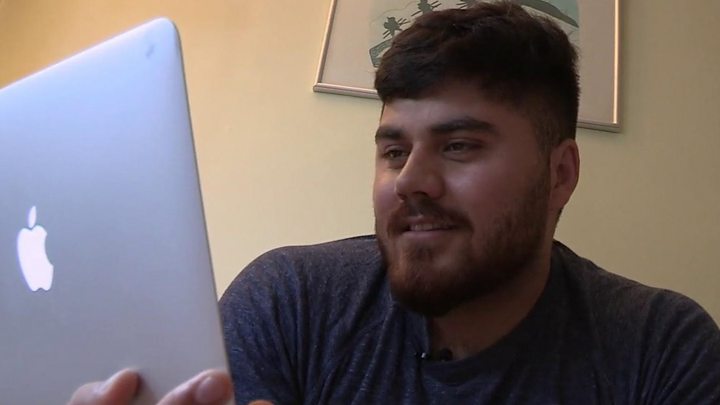 You might expect anyone who learns their English from watching BBC One's EastEnders to pepper every other sentence with shouts of "Get outta my pub!", "You ain't my mother!" and the collected musings on life of that great sage, Mick Carter, as played by Danny Dyer.
But picking up English from the soap was about more than a string of one-liners for Farid Saleh when he arrived in the UK from Afghanistan as a child refugee. It was a route to a new life.
Farid's father had been killed in political violence and, as the oldest son, the 13-year-old was in danger. His family paid for him to get to the UK, where the scared and bewildered teenager was placed with a foster family.
"When I met my foster family it was challenging, I didn't know what they were saying," he says. "There would be days I would come home from school and say, 'I can't do this.'"
So every night his foster mother would sit with him and they'd watch EastEnders together with the subtitles on.
They would note new words and Farid would try to use them in sentences.
Slowly and steadily he stopped being a teenager lost in a foreign world and grew into a young man with a future.
You don't need to take my word for it. Farid speaks for himself in our film, although I should perhaps apologise for twisting his arm into saying the legendary "Get outta my pub!" line.
"EastEnders helped me to know what people were talking about at school," he says. "I was able to be part of that conversation."
Farid has done well for himself (more on that later) because he was well supported. But professionals say watching soaps is no substitute for proper tuition that can accelerate integration. The problem is, somebody has to pay for it.
Very few refugees have the means to do so until they get into work... and to get into work, they need to speak English. So the government funds English tuition.
But the charity Refugee Action says new research has uncovered what it says is a crisis in English classes that is preventing people from integrating.
The charity says tens of thousands of refugees in the UK are in a linguistic limbo as they wait to get on to courses, known as Esol, because of chronic underfunding.
The delays faced by women are even longer because they struggle to get childcare.
The system is "simply not fit for purpose", says Mariam Kemple Hardy of Refugee Action, adding that refugees are waiting up to three years to get classes.
"When you can't speak English, life can be extremely isolating. They can't make friends with their neighbours. It is incredibly hard to get a job, to become a real part of their community," she said.
"So learning English is a big part of rebuilding their lives in the UK. The government has to improve English language provision by increasing investment."
Funding for Esol comes from the Department for Education and stood at just over £200m eight years ago - since then it has fallen by half.
Natecla, which is the national association for teachers in the field, says that in 2008-09 there were 207,400 adults on courses.
That had fallen to 131,000 by 2014/15 - all during a period of high immigration - and it wants a new national strategy for England, like this in place in Wales and Scotland.
---
Who gets help with English lessons?
Special funding for refugees from Syria
Free classes for those who get jobseeker's allowance
Others have to pay at least half of costs
Asylum seekers (those seeking to be recognised as a refugee) must wait six months
Foreign-born spouses treated as international students and must typically pay higher fees
---
A Department for Education spokesman said: "We are committed to supporting all adults in England secure the English language skills they need for life and work. Adults who are granted refugee status are eligible for the same skills funding as any other English resident."
But the calls for better funding are not new - and not confined to lobby groups. They have also come from one of the government's top advisers.
The Casey Review into Opportunity and Integration, commissioned by former Prime Minister David Cameron, concluded last year that if people can't speak the language, they end up poorer, isolated and living in segregated communities.
It noted that over the course of two recent years more had been spent on Cornish than on English by the department responsible for integration. Ministers have promised to publish an integration strategy in the coming months.
There are many charities and volunteers who are trying to plug the gap in helping new refugees to integrate. Farid is one of them.
He is studying at university to become a social worker and also helping today's child refugees who feel as lost as he once did.
So what does he tell them?
"My advice would be to watch EastEnders - and a lot of TV," he smiles. "It will help you - put the subtitles on and watch them."