Teachers' funding fears for breakfast clubs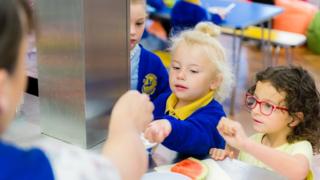 "You can always tell if a child has eaten breakfast - they concentrate more in class and behave better too," says Stockport head teacher Mike O'Brien.
His school, St Bernadette's RC Primary, runs a breakfast club for 80 children each day - but Mr O'Brien fears they might not be able to fund it in future.
And of 750 teachers polled for food company Kellogg's, which sponsors 3,000 clubs, two fifths are equally worried.
England's Department for Education said its plans would boost breakfast clubs.
Kellogg's commissioned the polling company YouGov to question teachers in schools with breakfast clubs throughout the UK.
Of those who responded, 43% feared their breakfast club could close within three years.
Funding squeeze
Of these, 86% said breakfast clubs were being squeezed by wider pressures on school funding.
Overall, teachers believed breakfast clubs had a positive impact on pupil behaviour, school attendance and exam performance, as well as allowing more parents to go to work.
At St Bernadette's, the breakfast club has been running for three years.
Mike O'Brien says it has proved "invaluable".
"Over the last three years we have seen real improvements in attendance and punctuality."
Cereal, pastries, toast and fruit are on offer and each item costs 30p.
The school runs free booster classes in numeracy or literacy alongside the breakfasts, as well as arts and crafts, reading and organised games.
"We prioritise breakfast club for our school, but there are tough times ahead - school budgets are getting increasingly tight."
He said changes to required staffing ratios and salaries meant the total cost of the club was rising.
"Clearly the 30p an item charge doesn't cover this so we're left wondering how we're going to be able to run it in the future."
John Coe of the National Association of Primary Education said, "the impact upon disadvantaged communities will be particularly severe".
"Policymakers should listen and then take decisive action to provide financial support."
During the general election campaign earlier this year the Conservative manifesto controversially proposed scrapping free school lunches for all infant school children in England to fund free breakfasts for all primary pupils instead, but this plan was later dropped.
A Department for Education spokeswoman said the government had committed to a £10m a year programme to expand breakfast clubs in up to 1,600 schools in England.
A tendering exercise would start this autumn, she said, with a particular focus "on supporting disadvantaged pupils, families, schools and areas".
"We know that the breakfast clubs can not only promote healthy eating, but also improve the concentration and behaviour of pupils who attend."
The spokeswoman said government reforms to school funding would "deliver the biggest improvement to the school funding system for well over a decade".