Reality Check: Has vice-chancellor pay been spiralling?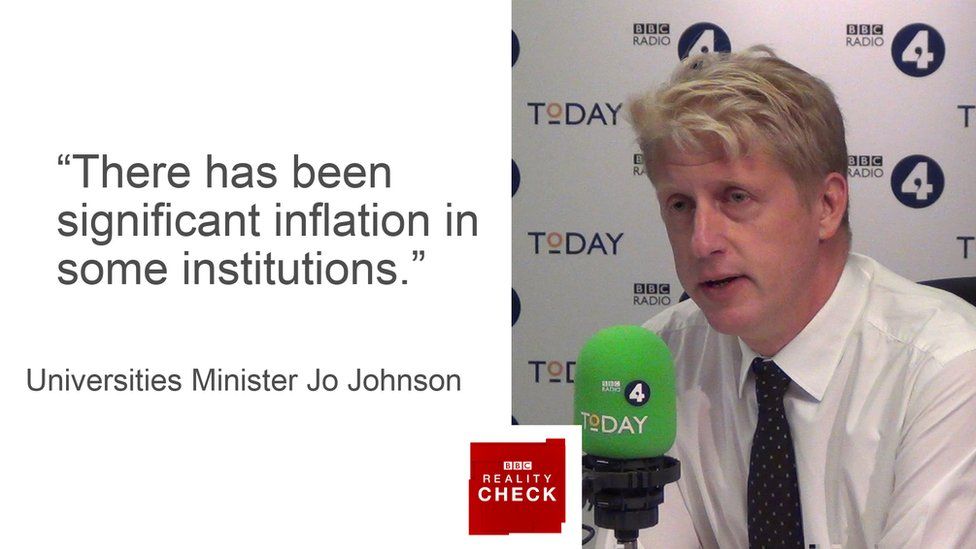 The claim: Pay for university vice-chancellors has been spiralling.
Reality Check verdict: In the past seven years, average pay for vice-chancellors has risen by about the same amount as average earnings, but there have been some individual examples of pay rising by considerably more than that.
Universities Minister Jo Johnson is encouraging vice-chancellors to show restraint in their pay.
A government press release said that he would "unveil a series of new measures designed to curb spiralling vice-chancellor pay".
Speaking on Radio 4's Today Programme, Mr Johnson said: "There has been significant inflation in some institutions," and referred to "very very high salaries".
Among the 156 higher education institutions it surveyed, the average salary for a vice-chancellor in 2015-16 was £246,000. Pension contributions, benefits and bonuses take that to £281,000.
Since the survey started in 2009-10, average vice-chancellor salaries have risen by 13%.
The Office for National Statistics (ONS) says that between April 2009 and April 2016, average weekly earnings rose by about the same amount, so over that period it is certainly not accurate to say that vice-chancellor pay in general has been spiralling.
Top-paid vice-chancellors in 2015-16
However, there are certainly examples, as the minister says, of institutions in which the pay of the vice-chancellor has increased significantly.
Oxford University's vice-chancellor, Louise Richardson, is paid £350,000, which is about 70% more than her predecessor was being paid 10 years ago.
She defended her salary on BBC Radio 4, saying that the university had annual costs of £1.4bn. That figure has approximately doubled during the past 10 years.
The vice-chancellor of Bath University, Prof Dame Glynis Breakwell, is the highest paid, receiving £451,000 in salary, benefits and allowances, up 77% during the past decade.
Last week, she announced a review of the university's remuneration committee, which decides her pay.
The vice-chancellor of Birmingham University is paid £378,000 a year plus another £45,000 bonus and £3,000 in taxable benefits, which is a 60% increase on 10 years ago.
Imperial College London pays its president a salary of £353,000, but that has gone up a more modest 15% in the past decade (pension contributions and other benefits take this up to £430,000).
Related Internet Links
The BBC is not responsible for the content of external sites.