Universities want rethink on costs for poorer students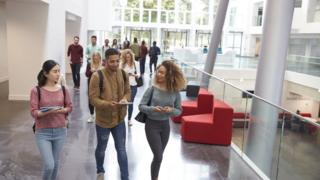 More than a hundred universities are calling for a rethink on the costs for poorer students in England.
Universities UK says ministers should look again at grants for living costs and interest rates for some graduates.
Liberal Democrat leader Sir Vince Cable told the BBC the existing system was "politically difficult to sustain".
Ministers have defended current tuition fees of £9,250 a year as providing sustainable funding for universities and fairness for graduates.
Universities UK, which represents higher education bodies, says the government must show it is listening to students.
It says the main concern for young people is "money in their pocket" while they are studying.
Vice chancellors are meeting this week amid growing political concern that the system no longer feels fair to young people.
Debts 'of £57,000'
Prof Janet Beer, the new president of Universities UK, will call on ministers to look again at maintenance grants for students most in need of help with living costs.
In England, grants for living costs were scrapped last year and replaced with loans, leading to predictions that students from the poorest families would have the largest debts.
The Institute for Fiscal Studies estimated this would add up to debts of £57,000 for students from low income families.
In an interview with the BBC, Prof Beer said: "We've done a poor job at explaining the good things in the system, but there are things that can be looked at again, the threshold for repayment, interest rates and maintenance grants."
The board of Universities UK met on Tuesday and agreed to press ministers to look again at some aspects of the overall cost of a university education.
The government has confirmed that from this autumn, a new higher interest rate of 6.1% will be levied on student tuition fee loans, calculated as RPI +3%.
Now universities are calling for a rethink from ministers on the interest charges for some graduates.
Universities UK has decided to call for different thresholds for interest rates for graduates that go on to become low or middle earners.
Sir Vince oversaw the introduction of £9,000 tuition fees in government as business secretary.
He still defends the principle of graduates contributing through their higher earnings to the funding of universities.
But speaking exclusively to me this week he said: "The system is becoming politically difficult to sustain."
The significant vote by young people for Labour - whose policy is to replace tuition fees with direct government subsidy to universities - has shifted the political landscape.
Sir Vince said: "We are already seeing the beginnings of a revolt."
And he signalled that other ways of taxing graduate wealth might need to be considered to make the system fairer.
"Those of us involved in trying to create a fairer system in the past have got to be willing to reopen some of the basic questions about how the system operates. The interest fixing is bizarre, economically nonsensical."
He also wants to see more support for living costs for students and better help for those who go through further education.
'Not broken'
Only the highest paid graduates are expected to pay off their tuition fee loans in full before the 30-year term expires.
The rest is written off by the government, but unlike funding universities from current spending, the final bill does not appear as part of government borrowing.
Jo Johnson, the minister for higher education, has argued that the fact many graduates do not repay their loans in full is not a sign of failure.
In a speech earlier in the summer, he said the sharing of costs between students and the state was "a conscious investment in the skills base of the country, not a symptom of a broken student finance system."
The government has to decide within weeks whether to confirm the inflation-linked increase in fees to about £9,500 expected by universities in England for 2018/19.
Universities now rely heavily on the income from tuition fees, as the almost tripling of fees to £9,000 in 2012 coincided with the withdrawal of direct government funding.