University creates world's first public menswear archive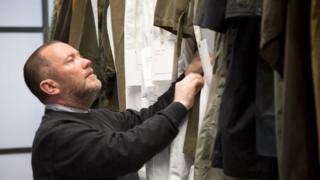 A UK university has created what it believes is the world's first dedicated archive of men's fashion to be open to the public.
The archive, at Westminster University's Harrow campus, contains more than 1,000 garments.
Highlights include designs by Alexander McQueen and Burberry, as well as rare military clothing.
It shows the impact military styles have had on menswear designs, says its creator, Andrew Groves.
The archive's military clothing collection dates back to World War One.
'Social history'
There are also key pieces from Jean Paul Gaultier, Barbour, Levi's, Berghaus and Comme des Garcons, said Mr Groves, a fashion designer and course director of Westminster's BA in menswear.
"It's like pulling together a social history of menswear in this country, which I don't think has ever really been properly looked at." he said.
"I think what's interesting about menswear is that it's a much smaller community and they're more open and wanting to support each other.
"I think it enables us to do things other archives can't do.
"It enables us to draw out those connections between military menswear and uniform and how that has impacted menswear design."
The archive was started last year to coincide with the launch of the university's master's degree in menswear.
Pieces range from 1900 to the present day and include contemporary designers like Craig Green.
"We've got a collection of rare Alexander McQueen menswear which is bigger already than the collection at the V&A," said Mr Groves.
He said the aim was to inspire a new generation of menswear designers and allow them to see the historical context of the garments they are reinterpreting.
"We had a small collection of garments but we realised there actually wasn't an archive of menswear garments that students could access and use," he explained.
"We've got a curator and when we're teaching we can say to a student that might be designing outerwear or they might be designing trench coats, we can say, 'Go upstairs and you can see examples of military trench coats from the 50s or 60s, you can see examples of a Jean Paul Gaultier trench coat from the 80s or you could see a CP Company trench coat from the late 90s.'"
Specially shot detailed images of the pieces are available online and anyone who wants to visit the archive in person can book an appointment through the university.