How can GCSEs get harder and results stay the same?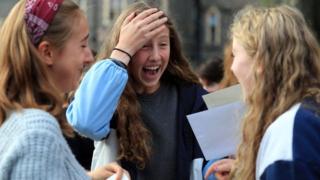 The more things change... the more things stay the same.
A revolution has been announced for GCSEs in England, with tougher exams, a more stretching syllabus, no hiding behind coursework and standards that are higher than anything since the demise of the O-levels in the 1980s.
But the results - give or take a fraction of a percentage point - are uncannily similar to last year.
How does that happen?
Of course, the most important thing about GCSE results is the individual pupils, their families and teachers.
It's about hard work, long nights of revision and youngsters making the most of their opportunities, sometimes in tough circumstances.
It's not about the statistical snowstorm that GCSE results coverage can too easily become.
But how does the exam system deliver greater rigour and more difficult exams - and at the same time not see any significant change in grades?
The balancing act, if not a conjuring trick, is pulled off by changing the grade boundaries.
The upper-tier maths paper might be pencil-chewingly difficult, but a grade-4 pass required a mark of only 18%.
To get a grade 7, equivalent to an A grade, required a mark of 52%.
The new ultra-high grade 9, for the very brightest students and meant to be much tougher than the old A*, required 79%.
So, by adjusting the grade boundaries, the proportions getting the different grades can be kept constant with previous years.
It's a bit like intellectual limbo, changing the height of the stick to decide how many get through.
Professor Alan Smithers, from the University of Buckingham's Centre for Education and Employment Research, said this meant "more or less giving away the grade".
Head teachers' leader Geoff Barton says there is something "Alice in Wonderland" about this pursuit of exams being much harder, but results being pegged as more or less the same.
Mr Barton, head of the ASCL head teachers' union, questions whether this will remain sustainable - and asks how schools are able to show authentic progress, if year after year the grading system keeps holding everyone to the same level.
He says he is no "apologist" for some of the weaknesses in the former content of GCSEs.
But he says there needs to be a change in the "mindset" of what is expected from the exam system - and more transparency about how the final outcomes are constructed.
"We need to open up the rather surreal nature of what we're doing to make sure that results are consistent."
But in defence of the exam boards, the other side of the argument is that in a qualifications system that seems to face constant change, it would be very unfair if individual year groups suddenly faced a cliff-edge collapse in results.
They need to be protected from the sudden changes in direction and shifting expectations.
The exam regulator Ofqual says the "boundaries were set using a combination of statistics and examiner judgment. We are confident that they reflect an appropriate standard of performance".
Exam boards and schools are also caught between a rock and a hard place with results.
If results were to suddenly improve, there would be accusations of grade inflation and dumbing down.
If results went sharply down, there would be claims of a collapse in standards and that schools were letting down their pupils.
So, instead, the "comparable outcome" system keeps things in more or less the same place - constructing the results accordingly, so that they bob up each year in the same place, like a self-righting mechanism on a lifeboat.
What does this mean for overall objective standards? What does it mean for international competition? How much is the exam system bent out of shape by political pressure?
Even when it's about a maths exam, this is a day that's about more than such calculations. Families will have been sharing their own news headlines. There are congratulations and commiserations.
And next year, it will start all over again, and we'll watch exam results nudge slightly upwards or downwards, as if of their own accord.