Maths teachers hit out at 'extraordinary' funding decision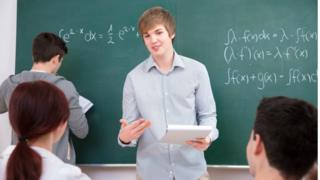 Teachers have hit out at an "extraordinary decision" to cease funding a key A-level maths project.
Underground Mathematics had won the backing of a government commissioned review into post-16 maths in England.
It helps students "deepen understanding of central concepts", said Prof Adrian Smith in a report to ministers in July.
The government says funding for the five-year project was always due to run out in September, but teachers want to know why it was not renewed.
In a letter to Education Secretary Justine Greening, the Association of Teachers of Mathematics and the Mathematical Association say the decision makes no sense.
'Great value'
"We are writing to you as two of the subject associations that represent mathematics teachers to ask why continuation funding was not found for the Underground Mathematics project given its success and the emphasis you have placed on the development of Level 3 mathematics...
"Please can you explain why ongoing funding was not available to Underground Maths?
"It is difficult to understand how long-term development is ever going to be achieved when support is not sustained for programmes that are of great value to the sector."
In its response to Prof Smith's review, the government announced a £16m cash boost for post-16 maths over two years.
The review found that too many teenagers dropped maths after GCSE, harming their job prospects and the wider economy.
But the £16m will not provide direct replacement for projects like Underground Mathematics which are losing funding before they are complete, said David Miles, a maths teacher from Suffolk and treasurer of the Mathematical Association.
"This was a key programme that was good for everyone," he said.
He said the loss of funding for Underground maths had left teachers "shocked and distressed".
'High quality'
Experts at Cambridge University's Centre for Mathematical Sciences began the project five years ago with Department for Education money.
Online teaching resources were first made available to schools early last year and have been a massive success, said Mr Miles.
Many teachers were planning to use them to teach new reformed A-levels being rolled out from September.
"It's the sort of high quality resource which we want to encourage and it is all free."
In particular, it emphasises the connections between different areas of maths which rarely become clear to students until degree level, he added.
But, he said, an application for continued funding has been turned down and, although the resources will remain available online, the project will never be completed, with some A-level topics not included.
Corinne Angier of the Association of Teachers of Mathematics said she found it extraordinary that so much money was being wasted on reconfiguring support for post-16 maths when real experts had already made such progress.
"Nothing ever gets sustained. There is real frustration," said Ms Angier.
Separately, Max Goulding, a maths teacher at a Cambridgeshire comprehensive called the decision "a huge blow".
"The funding invested so far will have been in vain," said Mr Goulding in a letter to the Times Educational Supplement.
A Department for Education spokesman said: "We funded Underground Maths as a five-year project, the end date has been known to all involved from the start. The resources were well received by schools and we will continue to ensure they are available once the project ends.
"We want to see more young people choosing to study maths, which is why we are continuing to fund a range of initiatives including the Further Maths Support Programme and our network of 35 Maths Hubs. Our new, more rigorous maths GCSEs and A-levels match the best in the world and will equip young people with the knowledge and skills they need to succeed in the future.
"Following a government-commissioned review by Prof Sir Adrian Smith about how to improve 16-18 maths education, we announced £16m investment in the quality of post-16 teaching. The funding will boost the capacity of schools, colleges and universities to deliver good quality teaching for post-16 maths courses."