BBC's journalism and media literacy project for schools and young people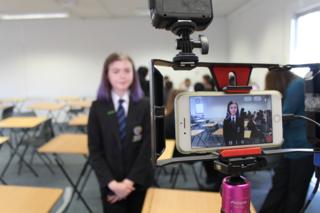 How do you record your own story? How do you work out what is real and what is false in the news and online? How do you get a job in the media?
These are just some of the many questions that BBC School Report aims to answer.
The project is aimed at 11-18 year olds in schools and colleges across the UK.
Providing exclusive access to events, training and resources throughout the year, BBC School Report also gives young people the chance to share their stories with BBC editors and journalists and a chance to take part in programmes and broadcasting opportunities.
How to get involved
Schools and colleges simply sign up to the mailing list HERE. It's that simple!
We'll then send you all the information you need about events, resources and opportunities which will take place throughout the year.
---
Schools and colleges taking part can benefit from opportunities such as:
•BBC events and training
•Content creation workshops
•Media professional mentors
•Resources
•Career talks
And of course opportunities for your young people to get their reports and stories made with BBC producers and journalists and broadcast to a wider audience.
---
School Report is a partnership between BBC News, BBC Academy, BBC Childrens' and BBC Sport.
As part of the project BBC Academy offers training and online resources for schools and young people, and hundreds of BBC staff volunteer to mentor young people to share their skills and knowledge.