Apprenticeship targets 'poor value for money', says IFS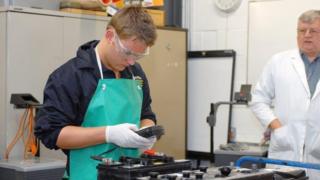 The government's target to rapidly increase the number of apprentices risks being "poor value for money", says the Institute for Fiscal Studies.
The think tank warns that it could devalue the "brand" of apprenticeships by turning it into "just another term for training".
The government has a target of three million apprenticeships and is imposing a levy on employers to fund it.
The Department for Education says standards are "rigorously checked".
Report co-author Neil Amin-Smith says there is a "desperate need" for better vocational training - and the government's industrial strategy has emphasised the need to improve technical education.
'Wildly optimistic'
But the report warns the government has "failed to make a convincing case for such a large and rapid expansion in apprenticeships" and warns of "wildly optimistic" claims for how much extra earnings could be generated by the investment in apprentices.
The analysis from the IFS casts doubt on the use of public money in the apprenticeships drive, funded by an employers' levy being introduced this spring which is expected to raise £2.8bn by 2019-20.
The think tank warns that spending on apprenticeships will only increase by £640m, suggesting that most of the revenue raised will be spent elsewhere.
The targets require an extra 600,000 apprentices per year, but the report says the incentives to hire apprentices could have the unintended consequence of deterring employers from paying to train their own employees.
This could create "considerable risks to the efficient use of public money", says the study.
There are also serious doubts about the wider impact.
The study warns about the dilution of quality if other types of training are re-badged as apprenticeships.
There is also a forecast that the cost of the employers' levy could push down wages for other workers.
And the beneficiaries will not all be young school leavers - with the IFS report saying that almost half of the new apprentices are going to be over the age of 25.
It also warns of a "cavalier use of statistics" in how the apprenticeships policy has been developed, which could undermine an otherwise "perfectly sensible case for a gradual expansion of apprenticeships".
Labour's shadow skills minister Gordon Marsden said: "Rushing to hit a three million target without sorting out the quality or increasing the proportion of apprenticeships under the age of 25 means they risk failing to deliver the long-term skills strategy we need."
A Department for Education spokeswoman said: "Quality is at the heart of all of our apprenticeship reforms.
"We have introduced new apprenticeship standards which are developed by employers themselves and rigorously checked and taken steps to protect the term apprenticeship from misuse helping us to achieve our target of three million apprenticeship starts by 2020 and providing excellent value for money."