School parents lobbied as budgets tighten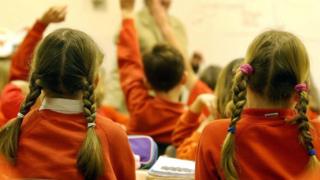 Parents in England will be hearing a lot more about school budgets in the next few years.
Until recently many will not have tuned into the gap - which can be as much as £2,000 to £3,000 per pupil - between different areas.
But with the stakes increasingly high for schools as their budgets tighten, the direct lobbying of parents has been ramping up.
In inner city London boroughs, where funding is the best on average in England, parents have received letters during this year with dire warnings their school will lose under any new formula.
But there's been no holding back from teachers in areas currently of low funding.
A letter from every head teacher in West Sussex circulated to 100,000 parents in October said there were risks of shorter school weeks and fewer teachers because of funding pressures.
The letter told them "school children in West Sussex are funded £44m less than the 'average' and £200m less than pupils living in the 'average' London borough".
And that in a nutshell sums up the political difficulties of trying to give some city areas less in order to give some large rural counties a bigger share.
The cake is not getting any bigger.
The government just plans to slice it differently.
More transparent
There is a promise that no school will lose more than 3% overall under the new arrangements, and no more than 1.5% in one year.
But even areas which do better under a new funding formula could still face real-term reductions per pupil over the next few years.
As employers, schools have to meet the costs of pay, national insurance and pension contributions.
A new formula is likely to be more transparent, but without the money to level everyone up any transition is going to be politically tricky to say the least.
For the Education Secretary Justine Greening, a London MP, this could be a case of putting her cabinet role ahead of her constituency.
Rainy days ahead
The bottom line for schools will be difficult decisions and for many that will mean looking at the biggest cost, their staff.
As the National Audit Office points out, schools haven't done as well as the government estimated at finding predicted savings on backroom costs and contracts.
With more than half of school budgets going towards teachers, some may look at replacing experienced teachers who leave with cheaper younger recruits.
Others have been squirreling money away into reserves to cope with the rainy days ahead.
Fundraising problems
So what will this mean for parents? In all likelihood more letters.
Not just explaining any difficult decisions, but asking for help.
Schools can only ask for voluntary contributions to help pay for extras, but that can feel like an obligation when it is suggested that a parent sets up a regular contribution per child.
Already schools overseen by councils raise 3.6% of their income a year, and academies about 4.3% of their budget, according to today's NAO report.
Every room rented out for community use, every playground pressed into service for a match day car park, every fair or fete might only raise a modest amount.
But increasingly, every little bit will count, as schools in England face what is described a reduction in their spending power not seen since the mid-1990s.
---
Are you a parent or guardian who has a child in the state school system? Have you been warned of cuts to working hours or asked to contribute financially? Or is their school going to benefit from the funding changes? Email haveyoursay@bbc.co.uk with your stories.
Please include a contact number if you are willing to speak to a BBC journalist. You can also contact us in the following ways: