Children in care: Call to cut prosecutions for minor offences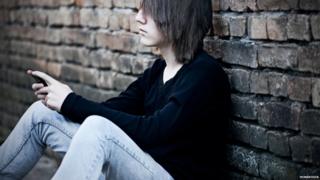 Children in care should not be prosecuted for minor offences, a report looking at their over-representation in the criminal justice system says.
The review for the Prison Reform Trust calls on the government to draw up new procedures to protect these children from criminalisation.
Lord Laming's report says half of children in custody in England and Wales have, at some time, been in care.
The government said the safety and well-being of children was "paramount".
The report, In Care, Out of Trouble, describes how looked-after children are often prosecuted for challenging behaviour that would normally be dealt with in the family home.
'Kicking doors'
A recently retired magistrate gave examples to the review of young people appearing in court for "kicking doors, squirting shower gel on carpets, or using abusive language to staff".
She said she "often raised concerns about the way trivial incidents in children's homes resulted in police call-outs and prosecutions in circumstances where ordinary parents would never resort to criminalising their own children".
Even though the Crown Prosecution Service and the local authority reassured her that all cases were reviewed according to special protocols designed to weed out minor misdemeanours, the children kept on appearing, she said.
The report says: "This is a national problem which central and local government, and local criminal justice agencies, can and must do more to address.
"Reductions in the rate at which children in care are criminalised will not happen by accident."
A government spokesman said: "The rules are clear that no child living in a children's home should be criminalised for behaviour that would not concern the police if it happened in a family home.
"While youth crime is down, we recognise that reoffending rates are too high and that the care and supervision of young offenders in custody is not good enough."
Criminal record
The spokesman added that a review had been ordered into the youth justice system and was due to come back in the summer with recommendations for improvements in care.
The report comes a week after David Cameron pledged that those leaving care would be given "far more effective support", with the introduction of a care leavers' covenant.
It calls for the charge to be taken forward at the very highest level, with the Cabinet forming a sub-committee charged with protecting children and young people in care from criminalisation.
The committee should then draw up cross-departmental agreements, which would require local authorities, police and other agencies to set targets locally to reduce the prosecution of these vulnerable and often traumatised youngsters.
Low-level criminal behaviour should not be recorded as a crime but should instead lead to a referral to a welfare agency, the report says.
Lord Laming said: "As soon as the police are called, it's a criminal record. It's all part of the criminalisation of them.
"We don't need to do that - it's quite avoidable but to avoid it we need leadership, imagination, direction and determination."
Lord Laming also told BBC Radio 4's Today programme that some teenagers did "dreadful things" and, in such cases, should be dealt with by the justice system.
"But that is altogether different from the police being called in circumstances that in a normal family, they would be dealt with within the family."
Information sharing
The report acknowledges there is already considerable guidance which should protect looked-after children from unnecessary criminalisation, but compliance with it is patchy on the ground.
Lord Laming's review highlights the need for children's social services, youth offending teams, the police and other criminal justice agencies to work closely together.
They should share information and attempt to avoid court proceedings unless it is absolutely necessary, it says.
It cites Surrey County Council and Surrey Police, who have reduced the number of looked-after children in the criminal justice system yearly since 2011, by working closely together.
And it mentions a number of areas where restorative justice schemes have cut prosecutions of children in care.
---