School places delay for thousands of special needs pupils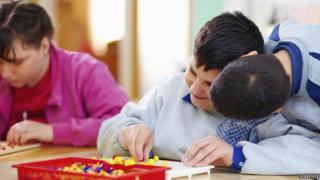 Thousands of pupils with special needs were not offered secondary school places by the official deadline, solicitors say.
In England, such pupils are allocated places, based on assessments of their needs, in a separate admissions system.
Information requests by solicitors Simpson Millar revealed 111 councils missed the deadline for 3,812 pupils.
Town hall bosses said they had been working hard on the plans and that all pupils would be found suitable places.
Local authorities have a legal duty to carry out a transition review and an education, health and care needs assessment for children with a statement of special educational needs, who will be moving into secondary school this September.
These plans specify each pupil's needs and how schools are going to meet them. This also includes an offer of a school place suitable to meet those needs.
It has to be completed by 15 February every year, ahead of the usual admissions round, to give parents time to review it and, potentially, challenge it.
'Hugely worrying'
Imogen Jolley, head of education at Simpson Millar, explained that if pupils had not received their transition statements, they would not have been offered a school place which the council had assessed to be suitable for them.
She added: "The sheer scale of the shortfall in this regard is staggering and hugely worrying.
"From the number of calls we have had from parents, we knew there was a problem with the deadline, but that it affects not hundreds, but thousands of children and young people with special educational is deeply concerning.
"Local authorities knew when the deadline was a year in advance, yet fail to meet their obligations time and time again regardless.
"What's the point in having a deadline if authorities can't meet it, and are not held to account when they fail to deliver unless parents take legal action?"
The local authorities that have failed to meet the deadline could all face a judicial review, she said.
'Disrepair'
"Parents of children who need extra support in school and college are held in limbo - not knowing where and how their child might be educated this September. This is a symptom of an education system in disrepair.
"If this was a test, over 100 councils have just failed it, she said."
Roy Perry, chairman of the Local Government Association's Children and Young People Board, said: "Preparing education, health and care plans for children with special educational needs is a complex process, and one that local authorities take extremely seriously.
"The majority of children had a plan in place by the end of February, with councils working hard alongside families and teachers to make sure that all children who need extra support have the most appropriate plans in place by the time they move up to secondary school.
"All children will receive support throughout the process, making sure that when they make the transition from primary to secondary school, they are prepared for the change and ready to make the best possible start in their new school."
'Working hard'
Hampshire County Council missed the deadline in 325 cases. This was the highest of the 152 local education authorities in England.
A spokeswoman said it had assured the parents and carers of those still waiting for their transfer assessments that they would continue to receive the support they need.
"We are working very hard to complete the remaining transfer assessments.
"Last year, we made a conscious decision, in consultation with parent groups, to focus on ensuring that the new assessment process was carried out to a high standard and that the appropriate, tailored provision is made for each and every child with special educational needs and/or disability.
"The new process has meant that it has proven difficult to meet the new statutory deadline because of the complexity of the task, the amount of work involved and the bedding-in of new staffing structures.
"We acknowledge that the timelines in completing assessments needs to improve and we have a plan in place to do this which builds on the strong foundations of high quality assessment that we have in place.
"The important thing for us is to ensure that we get the outcomes right for each child," she added.