New university rated among best in student survey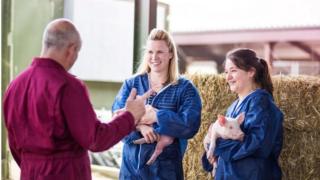 An institution which only achieved full university status in 2012 has been rated one of the best in the UK for student experience.
Harper Adams University, specialising in agriculture and the rural economy, was second in the Times Higher Education Student Experience Survey
The survey of 15,000 full-time students put Loughborough University top.
Student Tom Vines said his Harper Adams course had "opened up a whole different world" for him.
Times Higher Education says the survey, now in its 11th year, looks beyond the usual definition of the student experience, which focuses on teaching and learning, to give a wider picture reflecting "those aspects of university life that matter most to them".
It asks students to rate their university on 21 different measures ranging from quality of teaching, helpfulness of staff and course structure, to campus environment, facilities and social life - as well as the institution's ability and willingness to cater for students' individual needs.
Top 10 for student experience
1: Loughborough University
2: Harper Adams University
3: University of Sheffield
4: University of Oxford
5: University of Bath
6: University of Leeds
7: University of East Anglia + Newcastle University
9: University of Cambridge
10: Keele University
Shropshire-based Harper Adams, with only about 2,500 students, entered the rankings for the first time this year and came top for industry connections, while large numbers of its students agreed they would "recommend my university to a friend".
Every course has close connections with industry, explained its director of teaching and learning, Andrew Jones: "Importantly we also listen to our students, who tell us that they value their exposure to industry."
First-year Leonie Morphett said the university had "excelled in providing a professional and engaging learning environment, with enthusiastic lecturers actively involved in the industry in which they teach."
Tom Vines said his agriculture course had allowed him to build life-long relationships and made him feel "any door is open to you".
Loughborough University's vice chancellor Robert Allison said he was "so pleased" at the survey's endorsement.
Loughborough's student union president Jess Excell said what everyone loves about her university "is that community feel and that, no matter what your interests, there's something here for you".
'Clear-eyed'
At the other end of the spectrum London universities tended to score poorly, particularly for accommodation and community atmosphere on campus, says Times Higher Education.
Of London's mainstream universities only Imperial did relatively well, in joint 54th place.
Times Higher Education editor John Gill said the survey showed students were becoming more professional in their attitudes to their studies.
"They are investing more in their education and are far more clear-eyed in what they expect from their university."