School Reporters learn technical skills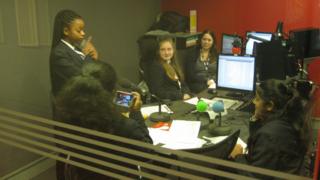 School reporters Sherona and Marijudy, both 14, from St Mary's Catholic High School in Croydon, have been learning radio and television technical skills.
They used their smartphones to shoot video and edit audio.
"It was easier than I thought it would be," said Marijudy.
"At first it was really technical and complex... but by the end we had created a two-minute radio piece with added sound effects...
"My voice sounded different to what I thought. It was really weird."
Marijudy said she hoped to remember what she had learned for family parties and events at school.
"The BBC seems very organised," said Sherona.
"In the video we learned how to film five different shots to make a sequence and how to hold the camera.
"The most important thing we learned was to zoom with your feet - you physically move up to the object, rather than pressing buttons on the camera.
"We also found out that hands-free headphones can double up as microphones."